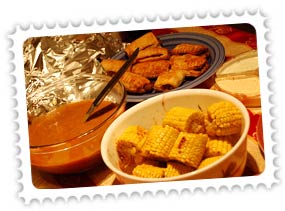 The cuisine of Rajasthan is as exotic as the state of Rajasthan itself. The royal heritage of Rajasthan has ensured that the cuisine of Rajasthan is as royal as the historical legacy. The "Land of the Kings" has always wined and dined in style. The royal kitchens have produced recipes that have been kept secret even till now. The exotic delicacies prepared by the royal kitchens were absolutely lip-smacking. The traditional food of Rajasthan consists of both vegetarian and non-vegetarian dishes. Read on to know more about Rajasthani food.
Rajasthan was a state that used to be constantly at wars. Thus, food that was easily available and did not require heating was preferred. It was much of a necessity than a choice. The local and the most popular dish of Rajasthan is called Dal Bhati Churma. It is basically hard bread made of wheat flour that is to be eaten with lentil curry. The food in Rajasthan is known for its spicy nature. Since there is always a scarcity of water in Rajasthan, more of milk, buttermilk and clarified butter (ghee) are used in cooking.
The normal course of meal includes vegetables, a dal and rotis. Along with this, one can have buttermilk and of course the wide variety of desserts. Rajasthan is famous for its collection of exotic desserts. One there, you must not leave without trying the sweets that are prepared and are absolutely delicious. Rajasthan is also famous for spicy chutneys and pickles. The best part about Rajasthan cuisine is not just the taste, but the way it is served for guests. You will be served like they would serve a king. Each and every detail is taken care of by the people who serve you and they make sure that you don't leave dissatisfied.