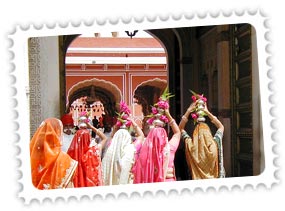 Location:
Rajasthan
Main Attraction:
Grand processions in entire Rajasthan
Best Time to Visit:
October to April
A very important festival in Rajasthan, Gangaur Festival is celebrated with much enthusiasm and joy. Exclusive to the state of Rajasthan, Gangaur Festival is celebrated nowhere else in India. This is one reason why it is held in high esteem in Rajasthan. The Gangaur Festival is dedicated to Goddess Parvati who is supposed to be the goddess of abundance. Young married girls keep fasts for their husbands and pray for their well-being. Even unmarried girls can keep fasts to get a good spouse. The Gangaur festival of Rajasthan is also celebrated to mark the end of winter and the onset of spring season.
The Gangaur festival is celebrated in different styles in different parts of Rajasthan. The festival is celebrated with much fanfare and enthusiasm in all major cities of Rajasthan. Young girls dress up in their best clothes and look absolutely stunning. They make elaborate designs on their palms with henna, popularly known as "Mehndi". The first part of the celebration is to collect the ashes from the sacred Holi fire and put seeds of wheat and barley in it. They are carefully watered and when they germinate, they are taken to the temple and worshipped alongwith the idols of Gan and Gaur (Lord Shiva and Parvati).
The festival is celebrated for a period of 18 days and young newly married girls are supposed to fast for 18 days, eating only one meal per day. The idols of Gan and Gaur are submerged in a pond or river on the last day of the festivity. Grand processions are then carried on from different parts of Rajasthan. The colorful processions look like a king is arriving to the state. Beautifully decorated elephants, camels, palanquins, chariots and local performers take active part in the procession thus making it a spectacle that is absolutely magnificent and royal.