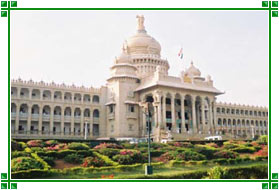 'Garden city' of Bangalore is the seventh largest city in India. Named so because of its number of gorgeous blooming gardens and parks, it is also a most progressive metropolitan at par with the latest developments of the world and is also known as 'Silicon Valley' because of its booming IT industry. Founded in early 16th century, Bangalore has its share of some of the most noteworthy historical monuments. It is said that Bangalore owes its name to a small village called 'Benda Kaalu Ooru' from which it originated. The village was so named by Kempe Gowda, a local hero and Hoysala ruler, after he could finally get a meal of boiled beans from a poor but kind old woman here to satisfy his hunger after many hardships.
Kempe Gowda made a small mud fort here and laid the foundation of the city but it was during the time of legendary warrior Hyder Ali and his son Tippu Sultan in the 18th century that this place actually gained prominence. Tippu Sultan became famous for his lifetime struggle with the British but at last he was crushed and British took over the city. In 1831, Bangalore became the regional administrative city of the British and a big military cantonment was established here. Today, some of the most noted monuments of the city can be attributed to the time of Tippu Sultan or are the examples of colonial architecture under Raj period.
Shopping Attractions:
A shopper's paradise, silk, sandalwood and rosewood items, Lambani tribal jewellery, granite carvings, raw silk paintings, appliqué goods, silver filigree, vegetable-dyed and hand-embroidered clothes, typical Gujarati home décor items, Tanjore art plates, bronze showpieces, black metal items and semi-precious jewelry from Tamil Nadu, raw silks, dokra metal work, beadwork and footwear from Madhya Pradesh are just the beginning of the huge list that one can buy from Bangalore.
There are high fashion boutiques displaying works of art from major Indian fashion designers in India are well represented as well as discotheques, bowling alleys, pubs, video game parlors and cyber cafes on Brigade Road. The mere density of shops per sq km in the city is bewildering and ranks highest among the Indian cities. However, the most popular shopping complexes are Commercial St in the north of Mahatama Gandhi Road and Residency Road for handicrafts.
Bangalore Sightseeing
Lord Cubbon laid down the 300-acre park in 1864. A perfect place for joggers and nature walkers, it also has red Gothic structures to see such as the State Central Library with its rare treasure of books, architectural style and fluted pillars, the High Court, the Cheshire Dyer Memorial Hall, Ottawa Chatter, Museum, Century Club and the Press Club.
How to Reach Bangalore