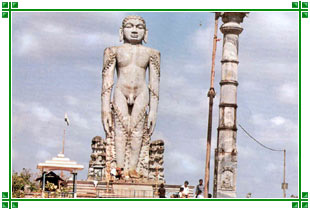 There are a number of famous temples at Karnataka besides the spots sacred to various faiths of the country. However, Hinduism and Jainism have a profound influence on the region. Sravanbelagola, known all over the world for the famous Gomateshwar monolith, is one of the most sacred Jain pilgrimage centers while Hindus flock to Sringeri and Dharmasthala to pay their homage to the deities. Inam Dattatreya is as sacred to Hindus as it is to Muslims. Karkala, Moodbidri, Venoor, Humcha and Narasimharajapura of Karnataka have a rich Jain heritage and the royal patronage ensured the springing up of numerous Jain shrines and monuments. Some other pilgrimage attractions include ancient temples, Jain bastis, mosques and churches of Sirsi, Balehonnur for Hindus with its Veerashaiva Matha, one of the five great Panchacharya Mathas, which has mythical connections to Rambha, the celestial dancer and to Rambhasura, Kollur with its attractive Mookambila temple, Gokarna, where Lord Shiva emerged from the Earth Cow's ear, K Subramanya where Lord Kartikeya is worshipped in the form of 'naga' or cobra, Harihareshwar Temple at Harihar and the famous temple at Udupi with a fantastic idol of Lord Krishna richly adorned with jewels and having Kanakana Kindi, a small window through which Kanakadasa, the devout follower of Lord Krishna was graced by his appearance.
Sravanabelagola
:
Situated in the Dharmasthala district of Karnataka, Sravanabelagola is an important and one of the oldest Jain pilgrimage spots in India, 150 km from Bangalore. Nestled between Indragiri and Chandragiri hills, the city dates back to the 3rd century B.C. when Chandragupta Maurya wandered to the place in search of serenity and peace after handing over his empire to his son Bimbisara. The chief attraction of this sacred city id the 17m tall monolithic statue of Lord Gomateshwara, also known as Bahubali, which is said to be one of the tallest and most elegant statues of the world.
Gokarna
:
The literal meaning of 'Gokarna' is 'the ear of the cow' and is so named because of the ear-shaped confluence of two rivers. However, according to the popular belief, it is named so to commemorate Lord Shiva's emergence from the ears of a cow. It is an important Hindu pilgrimage centre and also a famous Sanskrit-learning centre. 200 km from Mangalore, the place has been mentioned in Gokarna Purana, where it is said that mere visit to the place liberates one from hundreds of sins including the deadliest ones such as 'brahma-hatya' (the killing of a Brahmin or a pious person).