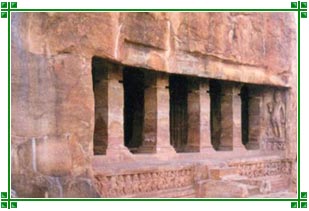 The religious fervor of Karnataka is evident in the number of temples here that are living examples of Hoysala architectural style and have an aura of peace and serenity surrounding them. The elaborate sculpture, the ancient temple architecture and the rock-cut cave temples of Karnataka have proved themselves to be sturdy against the rigors of sun and rain. One can still see the monuments from the 7th century and the Badami cave temples built by the Chalukyas. There are Dravidian style temples, the 10th century colossal Gomateshwara monolithic statue and the great temples of Halebid, Belur and Somanathapura, with their intricate carvings. Some other notable temples of Karnataka are Atmalinga temple of Gokarna that absolves one of all the sins, early 15th century Hazara Ram Temple with sculptures depicting various incarnations of Lord Vishnu and Ugra Narsimha Temple of Hampi, the cave temple of Hidimbeshwara said to be the oldest temple on the hill, 16th century Bull temple at Bangalore with a gigantic statue of Nandi Bull, the mount of Lord Shiva. Here we will discuss the Badami Cave Temples and the Somnathpur Temple in detail:
Somnathpur Temple:
The temple of Lord Krishna on the shores of River Kaveri situated in the tiny village of Somnathpur is said to be the last and the grandest of Hoysala monuments. This Kesava Temple was built about 740 years ago in 1268 and displayed all the former riches and splendor of the Hoysala architectural style as evident in their temples at Belur and Halebid (then Dvarasamudra). According to the stone inscription in old Kannada at its entrance, it was built during the reign of Narasimha III by his celebrated army commander, Somnath, after whom the temple and the village was named.
Badami Cave Temples:
The erstwhile capital of early Chalukyas, Badami is known for its beautiful carved cave temples belonging to 6th & 7th centuries. Wedged between two rocky hills at the mouth of a ravine, the four rock-cut cave temples display the full range of religious sects that evolved in India. Overlooking the sandstone caves, is an artificial lake lined with four temples on its shores. While three of the temples belong to Vedic faith, the fourth and natural cave is the only Jain temple at Badami. Out of the three Hindu temples, two are dedicated to Lord Vishnu while one is dedicated to Lord Shiva.