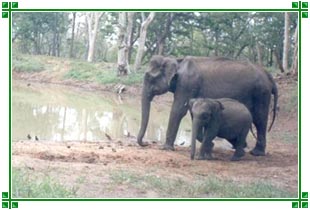 The exotic colorful birds, splendid flora varieties and numerous species of fauna constitute the Karnataka's greens and wildlife sanctuaries that accommodate thousands of mammals, birds, reptiles and insects including those that belong to several endangered species. Endowed with resplendent blessings of Nature, the sublime, solemn and spellbinding yet dangerous beauty of Karnataka challenges one to venture further and deeper into the woods. The large forest tracts south of the Vindhyas and the vast forests of South Karnataka are just the tight place to experience Nature in its true form. Some of the most notable wildlife sanctuaries and national parks of Karnataka include B.R. Hills Wildlife Sanctuary situated in the hilly tracts, 5091 feet above sea level and Gaurs and Chitals as its main attractions, Bhadra Wildlife Sanctuary stretching over Chikmaglur and Shimoga districts of Karnataka and Great Indian Gaurs and Barking Deers as its chief highlights, Dandeli Kali Wildlife Sanctuary known mainly because of its crocodiles and is the largest wildlife sanctuary in Karnataka stretching across 5729.07 sq km, Ranganthittu Bird Sanctuary and enjoy angling and fishing camps at Bheemeshwari wildlife sanctuary featuring dangerous Masheer fish. Nagarahole and Bandipur National Park together were once a part of Wynad and stretch across an area of more than 1,500 sq km. The convenient base to reach them is through Mysore.
Bandipur National Park
:
Once a part of Wynad, besides the Nagarhole National Park, this Tiger Reserve runs in continuum to the Mudumalai Sanctuary in Tamil Nadu and the Wynad Reserve in Kerala. Stretching across an area of 874.20 sq km, Bandipur has open grassy woodlands to the south of the Kabini River. The dense deciduous forests reach as high as 30m and are home to valuable hardwood trees like teak, sandal and rosewood. It lies in the shadow of the Western Ghats and is known as one of the finest habitats of the Asian Elephants and Gaurs.
Nagarhole National Park
:
A bridge separates the Rajiv Gandhi National Park, better known as Nagarhole Wildlife Sanctuary from the Bandipur National Park. 'Nagarhole' means 'Snake River' in Kannada and has been so named because of the winding and twisting course of the river that flows through the forests. Asiatic Elephants are the chief attraction of the sanctuary situated at the foorhill of the blue Brahmagiri Mountains. Situated in the districts of Kodagu and Mysore in southern Karnataka, it was first set up in 1955. However, its area was increased in 1975 to include a greater stretch of forest reserve. This erstwhile hunting preserve of the Mysore royalty has swamps too besides the lush green vegetation and a wide variety of wildlife.