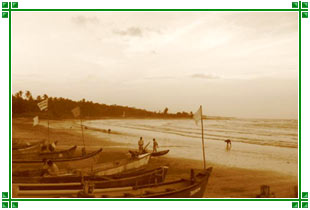 The mesmerizing and enchanting world of gentle Arabian sea, swaying palm trees, a number of silvery beaches, clear blue skies and huge playful waves that splash you with waters and beautiful crimson sunset marks the 320 km coastline of Karnataka that offers respite from the strenuous urban life, peace and serenity. The perfect beach family destinations, Karnataka beaches have a whole lot of activities to offer such as fishing and angling, swimming, boating, windsurfing and sun or sea bathing. Stroll lazily on the sandy beaches or just relax and watch children making sand castles and collecting seashells or you may even visit the nearby excursion points that offer glimpses of the rich culture of the Deccan India. The spontaneity of the coastal folk and the mouth-watering, finger-licking typical seafood cuisine of Karnataka warm up people's heart to simply fall in love with Karnataka beaches. The exotic scenery and unspoiled charming stretch of sands mark the beaches of Karnataka as the preferred and favored beach holiday destinations. The Murudeshwar Beach, Malpe Beach and Maravanthe Beach are some of the gems of the beaches of the state.
Murudeshwar Beach
:
16 km from Bhatkal, Murudeshwara is a sacred spot for Hindus with Murudeshwara Temple as its highlight. The picture-perfect beauty of the place appeals as much to the casual tourists as to the devotees who come tom pay homage to the deity. It is said that the elaborately carved temple atop the small hillock of Kanduka Giri with fine sculptures to boast of enshrines a piece of the Pranalinga of Mahabaleshwara that was thrown by Ravana, the mighty demon-king and devout worshipper of Lord Shiva.
Malpe Beach
:
6 km from Udupi, this beautiful stretch of soft sands is just as popular in Udupi as the Juhu Beach is in Mumbai. The calm and serene surroundings of the place, it is fit for splashing around in blue waters of the Udyavara River, also known as the Malpe River, and swim as much as you want. One can see fishermen carrying nets full of fishes out of the sea and sailing in the distant waters in their fishing boats in the hopes of catching more and more fish. Malpe is an important port city of Karnataka and is famous for fisheries.
Maravanthe Beach
:
50 km from Udupi, Maravanthe is a seaside town with Arabian Sea on one side and the Satuparnika River on the other. With a mountainous backdrop pf Kodachadri Hills, the picturesque virgin beach is yet unspoiled by the flocking tourists and boasts of miles and miles of white sand. A long drive to Maravanthe along the coastal road is just perfect and seems surreal. Near the beach is the beauteous Belekal Theertha falls near Baindur.