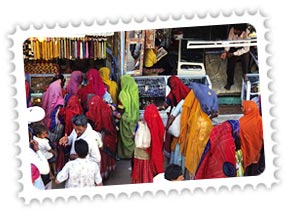 Rajasthan is famous for its colorful fairs that are held almost throughout the year. These fairs of Rajasthan are what infuse brightness into the dull and harsh living conditions of people. The entire state of Rajasthan comes alive in bright colors during these major fairs. These colorful fairs of Rajasthan show the sheer determination and desire of the people of India. They know how to live life even in the harshest conditions and know how to value these simple pleasures of life. Read on about the major fairs of Rajasthan and know more about the significance of each.
Banganga Fair
The Banganga Fair of Jaipur is one of the biggest events of Rajasthan. It is held every year in the months of April-May (Hindu month of Vaisakh). The Banganga fair is an event that has much historical significance in India. It is said that Arjuna, one of the five Pandavas created the lake at Banganga. More...
Karni Mata Fair
The Karni Mata fair is held in Deshnok in Bikaner, Rajasthan. It is held twice every year in the honor of Karni Mata who is hailed as Goddess by the people of Rajasthan. The Karni Mata fair held during the months of March-April and September-October. More...
Nagaur Fair
One of the largest cattle fair of India, the Nagaur Fair of Rajasthan is a major event in Rajasthan. The Nagaur Cattle fair of Rajasthan is held once in a year between January and February. More...
Pushkar Camel Fair
Hailed as the world's largest camel fair, the Pushkar camel fair in Rajasthan is a grand event held on a massive scale in Pushkar. It is also the world's largest cattle fair in general. More...
Urs Fair
The Urs Fair held in Ajmer is celebrated in the honor of the Sufi saint Khwaja Moin-ud-din Chishti. It is celebrated to mark the death anniversary of this revered saint. It is said that the mortal remains of this saint are buried in Dargah Sharif. More...