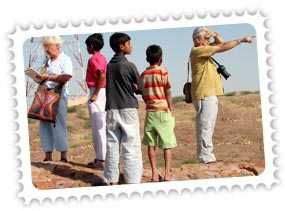 Rajasthan is a place that is dominated by hot and dry weather almost throughout the year. However, there is no such ideal time to visit Rajasthan. The variation between the day and night is pretty high. This means that though days are hot, the nights can get pretty cold and temperatures dip to a great extent. Each and every weather and season in Rajasthan is enjoyable and has its own charm. If you are keen on knowing about the peak season for Rajasthan travel, read further about the best time to visit Rajasthan.
Ideally, the best time to visit Rajasthan is during the post monsoon months. Although the weather conditions are extreme, the days are pleasant and the nights are bearably cold. The winters can be very cold though days are pretty warm. The best months for your travel to Rajasthan are during Mid October to Mid March. This is the time when Rajasthan comes alive with lively tourists exploring this mystical place in India. This is also the time when many fairs are held in Rajasthan, which are very lively and enjoyable.
The good weather in Rajasthan starts from the month of September itself. The heat becomes mildly pleasant and can be tolerated even during afternoons. Evenings are very pleasant and one can go shopping for hours together without getting tired. Early mornings are best for visiting wildlife sanctuaries. This is the time when you can spot wild animals the most. The palaces, museums and forts can be visited during the afternoons. Till the month of March, the weather is pretty good and heat again starts from April.