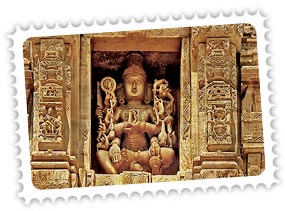 The temples of Rajasthan are known for exquisite architecture and rich carvings. The skills and craftsmanship of the workers are reflected profoundly when one explores these temples. The temples in Rajasthan have their own charm and significance and are a must visit if yo want to explore the rich cultural and traditional heritage of Rajasthan. A tour to Rajasthan temples will not only give you an insight into the marvelous stories behind the construction of these temples, but also satisfy you spiritually.
Birla Temple
The Birla Temple is located in the capital city of Jaipur. It is a very famous temple and was recently built by the famous Birla family. It is basically dedicated to Goddess Saraswati. The temple is open on all days and presents a magnificent sight when illuminated at night. More...
Brahma Temple
Located in Pushkar, the Brahma Temple is one of the most important temples and pilgrim places of the Hindus. This is the only temple in the whole world where Lord Brahma is worshipped. This is the only temple, which is visited by pilgrims throughout the year. More...
Dilwara Jain Temple
Considered as one of the finest Jain temples in India, the Dilwara Jain temples located in Mount Abu are living examples of brilliant architecture. The temples have been built entirely in marble and the way the marbles have been carved amazes anyone who visits these beautiful temples. More...
Karni Mata Temple
Situated at a distance of around 30 kilometers from Bikaner, the Karni Mata temple is dedicated to a mystic belonging to the 15th Century. It is said that this mystic was an incarnation of Goddess Durga. The temple is famous for its huge population of brown rats who roam around fearlessly. These rats are much revered by devotees coming to this temple. More...
Eklingji Temple
Situated in Udaipur, the Eklingji temple is dedicated to Lord Shiva. The temple is famous for its 108 temple complexes. The idol of Lord Shiva is made of black marble and is shown to have four faces.