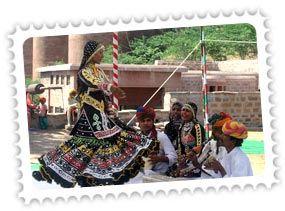 Location:
Jodhpur, Rajasthan
Main Attraction:
Traditional folk songs and dances of the Marwar region
Best Time to Visit:
September to March
How to Reach:
Jodhpur has its own airport and can be reached from nearby places like Delhi, Mumbai, Jaipur, etc. There is a railway station in Jodhpur that is well connected to other major cities via a good train service. Jodhpur also has a wide network of roads and can be reached from any nearby city.
Celebrated during the months of September-October, the Marwar Festival in Jodhpur is dedicated to the folk heroes of Rajasthan. The entire city of Jodhpur comes alive with lively celebrations of the Marwar Festival in Rajasthan. The duration of this festival is of two days and is celebrated with much fanfare in Rajasthan. The auspicious day for this festival is the full moon of the Hindu month of Sharad Purnima. Do not miss attending the Marwar festival of Rajasthan when you visit India.
The highlight of the Marwar Festival is the classical folk music that is sung by various traditional musicians and local artists. The music is typical Rajasthani style and speaks about the passionate and adventurous lifestyle of the rulers of Rajasthan. The Marwar festival of Rajasthan is also known as Maand festival as the music is known as Maand.
The dancers make the whole lively by presenting beautiful folk dances that are exclusive to the state of Rajasthan. They present some of the most daring and difficult dances that never fail to enthrall spectators. You can see them balancing seven to nine pots on their heads and dancing gracefully while balancing themselves on the edge of a sword! The bygone times and days of yore are beautifully presented and one truly feels as though they have been transported through time. Don't let go of this wonderful opportunity to regale in the glory of pure Rajasthan spirit.