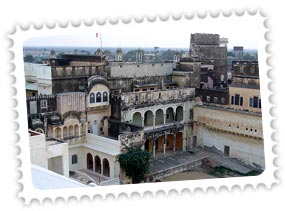 Location:
Jhunjhunu district, Rajasthan
Highlight:
Ancient forts and havelis
Best Time to Visit:
September to March
How to Reach:
The nearest airport is at Jaipur at a distance of 168 kilometers. The nearest railway station is at Jhunjhunu and the place can also be reached via a number of roads and highways.
The Mandawa Fort in Rajasthan was founded by Nawal Singh in the 18th century. The Fort has now been converted into a heritage hotel that portrays a medieval image but has all modern facilities. The Fort has a painted archway that has illustrations depicting the Hindu mythology. The rooms of the Mandawa Fort are decorated with intricate mirror work and beautiful paintings. The Mandawa Fort of Rajasthan is truly worth seeing when visiting India. The fort also has an open terrace, which offers a stunning view of the town.
There are many havelis around the Mandawa Fort that are built in the typical Rajasthani style. There is the splendid Hanuman Prasad Goenka Haveli, which has a magnificent depiction of Lord Indra on an elephant back. The Haveli has huge gates that open up to the Haveli that stuns everyone who visits the place. The front of the Haveli is decorated with images of elephants and horses in a grand and regal style.
The Murmuria Haveli has a splendid image of Jawaharlal Nehru on a horseback. There is the famous Jhunjhunwala Haveli that has a room painted with gold leaves. Other well-known havelis in Mandawa are Binsidhar Newatia Haveli, Lakshmi Narayana Ladia Haveli, Gulab Rai Ladia Haveli and Chokhani Double Haveli. All these havelis are beautifully decorated and each has its own distinct style. They provide a glimpse of the regal life led by the natives of Rajasthan.
Mandawa is said to have the best murals of all. Most of these murals depict local legends and mythological characters. The most famous themes were portraits, animals, game hunting, fighting scenes, etc. With the advent of British Rule in India, themes changed to English men in hunting attires, royal cars, trains, telephones, gramophones, and portraits of the haveli owners dressed flawlessly, etc.