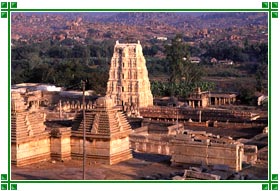 Said to be 'Kishkindha', the kingdom of Sugriva, the ape-friend of Lord Rama as mentioned in the epic of Ramayana, the historic origins of Hampi dates back to 14th century, when saint Vidyaranya founded the Vijaynagar kingdom with two of his disciples, Harihara and Bukka, on the banks of the Tungabhadra River. The art, architecture and Hinduism flourished under the patronage of the Vijaynagar rulers until the Islamic invaders from Deccan won over its king Ramaraya in 1565. The Golden Age of the empire is said to extend from 1509 to 1529, under the emperor Krishnadevaraya, when it extended to cover the states of Karnataka, Andhra Pradesh and Maharashtra.
The beauty and magnitude of its ruins retain the past glory and splendor and have been adopted by UNESCO as a World Heritage Centre. The Hampi Festival was recently started to promote tourism by Indian Government and starts every year from the 3rd of November. The other things worth seeing in the city are King's Balance where the kings were weighted against grain, gold or money so that the item worth the king's weight could then be distributed to the poor, huge Elephant Stables, the Pushkarini Tank and the Mahanavami Dibba.
Shopping Attractions:
Besides shopping for local handicrafts at Hampi Bazaar, you can also look into Hospet shops or those at Tungabhadra dam for souvenirs for your near and dear ones.
Hampi Sightseeing
One of the earliest buildings to the western end of the city, Virupaksha Temple is dedicated to Virupaksha, a form of Lord Vishnu. The temple houses shrines of Lord Shiva and Goddesses Pampa and Bhuvaneswari. Parts of the temple is said to belong to 11th or 12th century. It is amazing to see that how when a ray of light passes from the east through a hole near the sanctum sanctorum, the shadow formed on the wall looks like a miniature shadow of the temple tower.
How to Reach Hampi