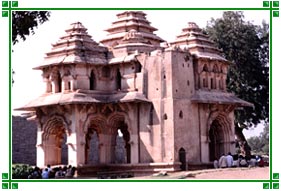 Virupaksha Temple
:
One of the earliest buildings to the western end of the city, Virupaksha Temple is dedicated to Virupaksha, a form of Lord Vishnu. The temple houses shrines of Lord Shiva and Goddesses Pampa and Bhuvaneswari. Parts of the temple is said to belong to 11th or 12th century. It is amazing to see that how when a ray of light passes from the east through a hole near the sanctum sanctorum, the shadow formed on the wall looks like a miniature shadow of the temple tower.
Ugra Narasimha
:
To the south of Virupaksha Temple, atop Hemkuta Hills, is the early ruins of Jain temples and the 6.7m tall monolith of 'Ugra Narasimha', a form of Lord Vishnu with head of a lion and body of a man. He is shown seated under the canopy of a seven-hooded snake. It was erected in 1528 during the reign of Krishnadevaraya and was carved out from a single boulder.
Vithala Temple
:
The Vithala temple is a World Heritage monument with fantastic sculptural work from the time of Vijayanagar Empire. It features 56 'Musical Pillars', which reverberate when tapped and an ornate stone chariot in the temple courtyard with an image of Garuda, the Bird-God and the 9m tall statue of Lord Ganesha along with recently excavated 'Nobleman's Palace'.
Shivalinga
:
Next to the statue of Narasimha is the 3 m high Shivalinga that stands permanently in water coming through an ancient channel.
Lotus Mahal
:
A delightful blend of Hindu and Muslim style of architecture, this palace features two-storeyed elegant pavilion situated in the 'ladies' section' of the palace.
Queen's Bath
:
A 15m square structure, Queen's Bath is 1.8m deep, has stark exteriors and highly ornate interiors and by delicate and elegantly ornamented arched corridors and projecting balconies.
Singaradu Hebbagilu
:
Just behind the legendary elephant stables, is one of the oldest gateways of the erstwhile capital known as 'Singara Hebbagilu' (the beautiful door), which was once the main entrance to the city.
Hazara Rama Temple
:
The 15th century temple has finely carved basalt pillars in its hall depicting incarnations of Lord Vishnu while the sculptures on the exteriors of the hall depict main events from Ramayana.
Achuta Raya Temple
:
Also known as the Tirvengalanatha temple, it was built during reign of Achuta Deva Raya. Though the temple is in ruins now, the erotic sculptures of the columns inside the open halls near the main gateway are worth seeing.