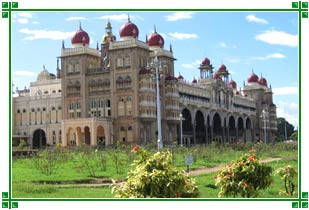 The tradition and culture have always flown freely in the veins of Karnataka. The vast regional diversity ranging from Bangalore, the Silicon Valley of India, with its IT achievements to the tribal regions of Coorg, the challenges presented by nature and foreign aggressions have only served to add to the rich architectural legacy that Karnataka has including royal cenotaphs and tombs, mausoleums and palaces. The mix of modernism and antiquity is palatable to the art and architecture lovers and is favored by the tourists visiting the place. Karnataka has a long list of monuments that are exquisite in their architecture and are remarkable in the way they are ornamented. They range from Afzal Khan's Cenotaph and Ibrahim Roza at Bijapur to Vidhan Soudha, Bangalore Palace, Tipu's Palace and Daria Daulat Bagh Palace (Tipu's Summer Palace) at Bangalore to Lotus Palace, Queen's Bath and Nobelmen's Palace at Hampi to Takht Mahal at Bidar to Bahamani tombs at Ashtur. Two of the most famous monuments that should not be missed while at Karnataka are Mysore Palace and Gol Gumbaz.
Mysore Palace
:
The Indo-Saracenic style Mysore Palace, once the royal residence of Wodeyar Maharaja, is one of the largest palaces in the country. Also known as Amba Vilas, the original wooden palace got burnt down in 1897 and was rebuilt in 1912 in its present design by the well-known British architect, Henry Irwin. The palace houses a treasure of superb carvings and artistic works from all over the world. The palace is a three storeyed building with a series of square arched towers crowned by domes.
Gol Gumbaz
:
The 17th century monument of Bijapur, Gol Gumbaz is the mausoleum of Muhammad Adil Shah. It is said to be an astonishing feat of engineering with its enormous 'Whispering dome', which is second largest in the world, second only to St. Peter's Basilica in Rome and is 124 feet in diameter. This huge dome is not supported by pillar and is so built that even the faintest whisper or ruffle of a paper echoes throughout the dome, can be heard across a distance of 37 m and returns to the listener nine times.