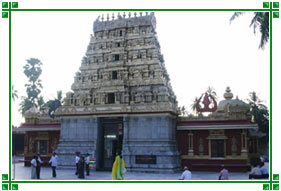 Nestled amidst the Western Ghats of Karnataka, Mangalore is a hilly city, 357 km away from Bangalore. Its long winding streets and cool breezes during winters attract the attention of the tourists to the place. Named after the Mangaladevi Temple built by the Ballal family of Attavar as a memorial to a princess of Kerala, it is a fine tourist sport worth visiting. There is a local museum that gives us a glimpse of the history of the region. The district headquarters of Dakshina Kannada, Mangalore is known for coffee and cashew nuts. Being an important port city, Mangalore is not only a major commercial centre but also the entry point to Beach Country with its virgin beaches.
The cosmopolitan city has several famous pilgrimage highlights and has topped the other Indian cities in terms of banking, private entrepreneurship and general awareness amongst its citizens. The 'Yakshagana' performance is unique to Karnataka as is the 'Kambala' or buffalo race, which one can witness in Mangalore. There are many other city highlights including the 10th century Manjunatha Temple, St. Aloysius Chapel, Mangala Devi Temple, Tipu's Battery, Jumma Masjid and Ullal Beach with Casuarina groves. Once a major seaport and shipbuilding center during the reign of Hyder Ali, Mangalore boasts of backwaters of Netravati and Gurpur rivers.
Shopping Attractions:
Shop for cashew nuts and coffee at Surathkal and Mannagudda. The m ain shopping complexes are at Balmatta Road, Mannagudda, Attavar, Jeppu and Bendoorwell, where one can look for woodwork items, souvenirs, handicrafts, traditional jewellery and clothing.
Mangalore Tourist Attractions
4 km from Mangalore, Sultan Battery of Boloor is a watchtower built in black stones. Tipu Sultan made this mini-fortress type with arrangements for loading cannons, splendidly beautiful, watchtower to prevent warships from entering River Gurupur. The remaining part of the fort is called Tipu's Well and is deserted today.
How to Reach Mangalore