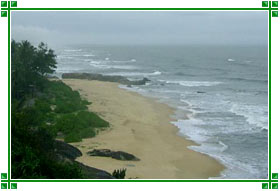 Sultan Battery
:
4 km from Mangalore, Sultan Battery of Boloor is a watchtower built in black stones. Tipu Sultan made this mini-fortress type with arrangements for loading cannons, splendidly beautiful, watchtower to prevent warships from entering River Gurupur. The remaining part of the fort is called Tipu's Well and is deserted today.
Kadri
:
The 11th century Kadri Temple is square in shape, has nine tanks and is situated at the foot of the highest hill of Mangalore. Kadri Manjunatha Temple boasts of the best bronze statue in India of Lokeshwara. Atop the hill is 'Jogimutt' built by King Kundavarma Bhupendra and the stone caves, believed to be the caves of the Pandavas of Mahabharata.
St. Aloysius Church
:
The walls of St. Aloysius Church sport paintings of Italian artist, Antony Moshaini. Built in 1899, St. Aloysius College Chapel is situated on lighthouse hill and is often compared to the Sistine chapel in Rome. Its gorgeous series of paintings covering every inch of its interiors are specially noteworthy.
Shri Sharavu Mahaganapathi Temple
:
Shri Sharavu Mahaganapathi temple complex houses many shrines dedicated to Sharavu, Kadri, Mangaladevi and Kudroli but the one that stands out the most is the 800-year old shrine of Sri Sharavu Sharabeshwara in the Sri Mahaganapathi Kshetra.
Kudroli Gokarnath Temple
:
Kudroli Gokarnath Temple has been recently renovated to make it a tourist attraction of the city.
Dharmastala
:
75 km from Mangalore, Dharmastala is known for the Jain bastis including the famous Manjunatha Temple sporting the 14-m-high Bahubali statue. One can also visit the museum.
Venur
:
50 km from Mangalore, it is a small town known for its eight Jain bastis and the Mahadeva temple. The early 17th century 11-m-high Bahubali statue can be seen on the southern bank of the Gurupur River.
Mudabidri
:
35 km from Mangalore, Mudabidri has 18 Jain bastis and 15th century Chandranatha temple or the 1000-pillar hall.
Karkal
:
20 km from Mudabidri, Karkal has many important temples and a 15th century 13m high Bahubali statue situated on a small hillock on the outskirts of the town. This point offers excellent views of the Western Ghats.
Tiger Dance
:
Tiger Dance, a unique form of folk dance in Dakshina, is performed mainly on Dussehra and Krishna Janmashtmi. The tiger is said to be the mount of Goddess Sharada (the warrior-goddess worshipped during Dussehra).
Aati Festival
:
One of the regional festivals of Mangalore, a ritualistic folk dance called Aatikalañja is performed during this festival the Nalke community. About a month long festival, Aati stretches from July 17th to August 15th and is said to be the month when nature is at its best according to the Tulu calendar and Kalañja is the name of the spirit-deity who ensures the protection of the village folk during the rainy season.