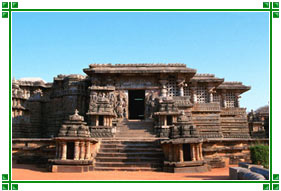 Though an important archeological site in itself, Hassan is more popularly known as a convenient base to the architectural ans sculptural wonders of Belur, Halebid and Sravanabelagola. The Hoysala rule between 11th to 13th centuries has left a profound impact on the architectural and cultural legacy of the region and it was during this time that most of the legendary and renowned temples of Belur and Halebid were constructed. Very near to one of the biggest Jain pilgrimage centres of India, Sravanabelagola, Hassan has been deeply influenced by Jainism and Jain philosophy and mythology can readily be seen in the sculptures, paintings and literary works of the region.
Hassan itself was once a well-known centre of Jain literature. It has retained the aura of serenity and peace and situated in the heart of Malnad district of Karnataka. The nearby excursion point of Sravanabelagola features one of the world's tallest and loveliest monolith statues of Lord Gomateshwara or Lord Bahubali, a Jain saint. Belur being the capital of the Hoysala kings has the most remarkable monuments including Chennakeshava temple that took 103 years to complete and Veeranarayana temple. Halebid looks like a twin city to Belur when it comes to the rich architecture of Karnataka.
Shopping Attractions:
One can buy handicrafts, textile garments and jewellery as souvenirs at Hassan. The main shopping areas are MG Road, K R Puram and Gandhi Bazaar.
Hassan Tours
The shrine with an anthill that represents Hasanamba, the presiding deity, is opened only once a year for a week, during the month of October and big fair or 'Jatra' is held during this time.
How to Reach Hassan