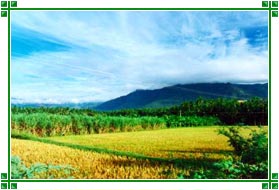 Situated in the folds of the Pali hills, Kodakanal is a popular and quiet hill station with forested slopes, prodigious rocks, attractive waterfalls and a lovely lake. Situated at an altitude of about 2,133 m above sea level, this hill town is well known its educational institutions that have earned international repute. The most spectacular scene this hill station has to offer unravels itself once in every 12 years when the blue-violet 'Kurinji' flowers blossom up to cover its slopes like a velvet carpet. They are the reason that these hills have earned the name of 'Nilgiris' or Blue Hills. The biological name of the unique flowering plant is Kurunji and they last bloomed in 1992. The fruits and plums here are revered for their freshness and taste. Stretching across an area of just 21.45 sq. km., the Berijam Lake here ranks amongst the most charming lakes of South India that spread across an area of 24 hectares.
One can also witness the settlements of prehistoric tribes here evident in the dolmens homes of great stone slabs. It is said the villagers of Palani foothills fled into Kodai hills to escape from the invasion of Tippu Sultan. It is said that the first European to visit Kodaikanal was Lt. B.S. Ward, who visited the place in 1821 and introduces his countryment to the wonderful climate of the hill station, easily accessible from Madurai and Periyakulam. In the year 1860, the first church was built here. Boating and Angling facilities are available at the Kodaikanal Lake and it is surrounded by rich flora. The summer festival here is a welcome break that features cultural programs, adventure sports, boat races and flower and fruit shows. The Golf Club is just 5 km from the lake and there are some interesting trek routes in and around Kodaikanal.
Shopping Attractions:
You can buy cotton and other apparels from Kodaikanal including handloom saris and handicrafts as souvenirs to keep and gifts for your loved ones. Handloom Co-operative Stores and Kurinji Mini Supermarket are popular places to buy from.
Kodaikanal Tourist Attractions
A popular picnic spot of the area, the lake is the source of all the drinking water to Periakalam town and has charming surroundings.
How to Reach Kodaikanal