'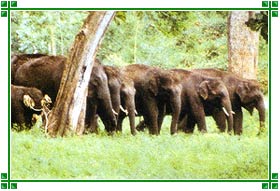 The Textile Capital Of South India', Coimbatore is situated in the shadow of the Western Ghats on the banks of the River Noyyal. It is one of the most industrialized cities in the state. The region has a rich black soil that makes for the flourishing agricultural industry and excellent growth of cotton, the foundation stone of the famous textile industry of Coimbatore. From the time when the first textile mills were set up in 1888, this industry has come a long way and there are now over a hundred mills here that have earned repute as the important components of a strong economy. Thus, Coimbatore is also often referred to as 'The Manchester Of The South'. Despite all the industries, it is still one of the most pollution free cities in India.
According to ancient manuscripts, the Irula tribal chief Kovan and his clan settled around here and cleared the surrounding forests to set up a new village called 'Kovanputhur' that later came to be known as Coimbatore. Coimbatore enjoys a pleasant climate all the year round. Fresh cool breeze flowing through the 25-km long Palakkad gap is enough to rejuvenate anybody. Besides, Coimbatore also serves as an important entry and exit point to the neighboring state of Kerala and the 'Queen of Hills', Udagamandalam, also known as Ooty. It is also the get-off point for those who chose to travel in the Mountain train that runs from Mettupalayam, just 35 km from Coimbatore. The city is also known for its educational institutions, especially, the Coimbatore Agricultural University is renowned as one of the best colleges of its kind in South Asia.
Shopping Attractions:
Coimbatore is a major industrial centre in Tamil Nadu noted for its textile mills, agricultural, auto parts and engineering industry. One can buy cotton apparels and hosiery products from Thiruppur. The best places to go shopping are Big Bazaar at Oppanakkara Street and Raja Street at Ranga Gownder Street. However, for Handloom Saris, one may opt for Sukravar Pettai.
Coimbatore Tourist Attractions
90 km from Coimbatore, Anamalai Wildlife Sanctuary and National Park is situated at an altitude of 1,400 m in the Western Ghats near Pollachi. It stretches over an area of about 958 sq. km. It is also known as Indira Gandhi Wildlife Sanctuary and is said to be an ecological paradise.
How to Reach Coimbatore