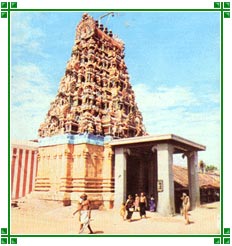 Anamalai Wildlife Sanctuary
:
90 km from Coimbatore, Anamalai Wildlife Sanctuary and National Park is situated at an altitude of 1,400 m in the Western Ghats near Pollachi. It stretches over an area of about 958 sq. km. It is also known as Indira Gandhi Wildlife Sanctuary and is said to be an ecological paradise.
Thiruppur
:
The popular textile market 50 km from Coimbatore, it is famous for hosiery products and is also known for its association with 'Thiruppur Kumaran', one of the gallant freedom fighters.
Parambikulam-Aliyar Multipurpose Project
:
Watch the outstanding example of engineering skill at Parambikulam-Aliyar Multipurpose Project situated in the Anamalai range where a series of dams are interconnected by tunnels and canals for harnessing waters of the Rivers Parambikulam, Aliyar, Nirar, Sholiyar, Thunakadavu, Thekkadi and Palar, lying at various elevations for irrigation and power generation.
V O C Park
:
This children's park is named after the freedom fighter V. O. Chidambaram. It encloses a mini Zoo, models of prehistoric dinosaurs, Children' Train, Swings other play equipments making it an interesting and engaging amusement park for the children.
Thirumoorthy Temple
:
Thirumoorthy Temple at the foothills of Thirumoorthy Hills near Thirumoorthy Dam is a popular get away of Coimbatore. The Sri Amalingeswarar temple with a waterfall nearby and the Crocodile Farm at Amaravati Dam 25-km from here, are other popular get away points.
Perur Patteeswaraswamy Temple
:
7 km from Coimbatore, Perur Patteeswaraswamy temple is situated on the shores of River Noyyal. It is one of the most popular temples of Coimbatore and has huge statues. Its reference can be found in the poetic creations of Arunagiri Nather and Kachiappa Munivar.
Khadi Gandhi Gallery
:
The Khadi Gandhi gallery was set up on 15th of July 1970 and displays pictures of Gandhi right from his birth to his death. It houses some of the rare photographs titled 'Journey through Harijan Life', 'Family', 'Friends', 'Independence Struggle', 'Jail Life' and 'Peace Talks'.
Forest College Museum
:
One of the oldest of its kind in the country, the Forest College is situated 3.5 km from the railway station of Coimbatore. The college museum exhibits the fossils of plants and animals, the dead specimens of plants and animals of rare variety and has a special advisory counter that offers counseling regarding plant husbandry.