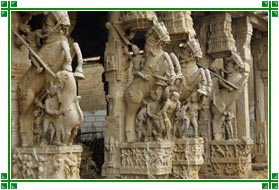 Trichy or Tiruchi was one of the main centers of the 18th century wars of Carnatic between the British and the French for supremacy in India. Situated on the banks of the River Kaveri, Tiruchirappalli is well known for its educational institutions, industries and temples and is a popular tourist destination. A thriving commercial centre in Tamil Nadu, it has a long history dating back to times of Cholas in the 10th century. Formerly Pallavas and the Pandyas had ruled it and when the Chola Empire finally declined, Tiruchi passed on to the hands of the Vijayanagar kings of Hampi. In 1565, Tippu Sultan won the kingdom and defeated the then rulers of the state and it remained a part of their empire under British took over. Today it is famous for its artificial diamonds, cigars and cheroots all over India.
Nayaks of Madurai and credited as the founders of the city and its fort. The Rock Fort Temple is believed to be the most famous landmark of Tiruchirappalli, The grand and stately monument is perched on a massive rocky out crop rising abruptly from the plains to tower over the old city. It provides excellent views of the city around and the Float Festival celebrated during the months of March or April here draws large crowds. Trichy can be said to be a land of festivals as there are a number of spectacular festivals that are unique in their conception and stand out among the rest of the Indian festivals such as Mohini Alangaram, Vaikunta Ekadasi, Garuda Seva, Flower Festival and the Car Festival. Though it is an industrial city, tradition, culture and religion flows through the veins of the city.
Shopping Attractions:
Trichy is famous for its cheroots, brassware, jewellery, Tanjore plates, silks, carpets, musical instruments, artificial diamonds, cigars, handloom cloth, glass bangles and wooden and clay toys.
Trichy Tourist Attractions
40 km from Trichy, the museum is located near the Pudukkottai station and houses rare and interesting collections of objects related to Geology, Zoology, Paintings, Anthropology, Epigraphy and Historical Records.
How to Reach Trichy