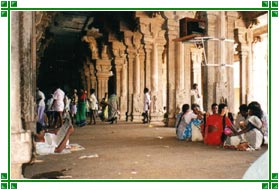 Government Museum
:
40 km from Trichy, the museum is located near the Pudukkottai station and houses rare and interesting collections of objects related to Geology, Zoology, Paintings, Anthropology, Epigraphy and Historical Records. However, it remains closed on Mondays.
Viralimalai Sanctuary
:
A small town near Tiruchirappalli, it known for the spectacular Murugan temple and enchanting Peacock Sanctuary, where one can see a large number of wild peacocks roaming around. If you are lucky, you may also see them dancing.
Kudumianmalai
:
25 km from Trichy, Kudumianmalai temple is dedicated to Lord Sikhagireeswara and has beautiful sculptures and a thousand pillar hall within the temple.
Rock Fort Temple
:
The Rock Fort temple complex houses three temples - the Manikka Vinayakar temple at the foot of the hill, the Uchhi Pillayar Koyil at the top of the hill and the Taayumaanavar Koyil (Shivastalam) on the hill.
Sri Ranganathaswami Temple
:
7 km from Trichy, Srirangam is said to be the abode of Lord Sri Ranganatha, the reclining form of Lord Vishnu. The temple of Ranganatha is said to be the largest in India.
Tiruvanaikkaval or Jambukeswara Temple
:
Just 2 km from Srirangam, this beautiful Shiva temple overshadows the larger Ranganathaswami temple due to its excellent architectural design. It is named after the elephant believed to have worshipped Lord Shiva here.