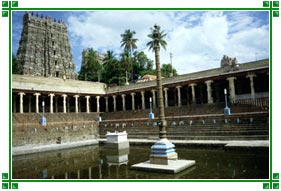 The lotus-shaped city built around Meenakshi Temple, Madurai is the oldest and second largest city of Tamil Nadu. Once the capital of Pandyan rulers till 14th century, it was named 'Madhurapuri', as it is said, that Lord Shiva showered divine nectar or 'Madhu' on the city from his matted locks as his blessings on the day, the city was to be named. The name later deformed to Madurai, which soon became an important Hindu pilgrimage centre. Its highlight is the Dravidian-style Sri Meenakshi Sundareswara temple with fabulous carvings, huge Gopurams and a thousand-pillared 'Mandapam'. There are musical pillars here too that are carved out of a single granite rock and send out a musical note when tapped. Tamilian culture and religion has found a safe haven in the temple and it promotes and sponsors Tamilian literature, art, dance and music.
The Vishnu temple of Koodal Azhagar is one of the most ancient temples in Madurai with intricate woodcarvings. There are Thirumalai Nayak Mahal and the Gandhi Museum to see. The latter has on its display, the Dhoti worn by Gandhiji at the time of his assassination. The 17th century Vanditur Mariamman Teppakulam tank stretching across an area equal to six Meenakshi temples is only filled with water during the Teppam Festival. The rock-cut temple Thirupparankundram is carved out of a mountain and is said to be one of the abodes of Lord Sundareshwara. The golden deity of Azhagar Koil is taken out in a grand procession during the Chithirai festival, his wedding anniversary. One may also visit the Pazhamudhirsolai nearby, which is one of the six abodes of Lord Subramanya.
Shopping Attractions:
At Madurai, you can buy quality handloom sarees, brassware and woodcarvings. A textile center for long, Madurai is a great place to buy locally manufactured cottons and batiks, especially near Sri Meenakshi Temple.
Madurai Tourist Attractions
An icon of Tamil Nadu religious centre, Meenakshi Temple is built in Dravidian architectural style. Pilgrims and tourists from all over India and world pour in to visit the temple. The southern Gopuram of the temple offers a great view of the city.
How to Reach Madurai