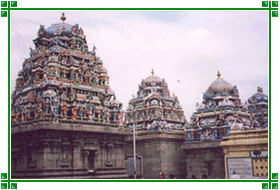 'Gateway to the South' and the fourth largest metropolitan town in India, Chennai is also known as Madras. Sporting 17-km stretch of the Coramandel coast, the waterways of Cooum and Adyar and the Buckingham Canal divide the city into roughly three parts. The culture of Chennai is in many ways different from the northern part of India. Though an industrial city, traditionalism, conventionalism, classical music and dance forms of the region and the indigenous art forms are a part and parcel of the city's identity. It has a unique blending of the modern facilities and amenities with the religious fervor and way of life that can be clearly seen in its diverse cuisine that ranges from traditional vegetarian cuisine to fast foods and cold drinks, typical nine-yard sarees to the latest and fashionable designer dresses, ancient temples built in Dravidian 'Nagara' style of architecture to the modern skyscrapers and calm and serene classical music and dance forms to heavy metallic numbers blaring from the discotheques.
There are Indo-Saracenic and Victorian monuments that make one stop and admire. Chennai presents vivid contrasts and pleasant surprises for tourists from all over the world. There are beautiful beaches, lush green parks and gorgeous sanctuaries lending the city, an endearing charm. A piece of nature and rich historical legacy makes the modern Chennai, a place to cherish for people pining to relish old-world though with the comforts and ease of today. It is difficult to imagine how this teeming ever-expanding city was once a small fishing hamlet in 1639 called Madraspatnam, which charmed the Englishmen settle down here after they first landed here with loads of their goods and wares. Many of the churches here are connected with the life and exploits of St. Thomas while there are many ancient temples in and around Chennai too. However, the two most magnificent temples in Chennai are the one at Triplicane and another at Mylapore.
Chennai Shopping Attractions:
Chennai being a metropolitan city offers large variety of things that you can buy from here including brass, stone, wood and ivory carvings, leather bags and shoes, traditional items of Tamil Nadu such as Pattamara Mats. You can look for leaf and palmyra-fiber handicrafts from Tirunellveli, metal works from Tanjavur, bronze and brass castings and traditional jewellery from Kumbakonam, stone carvings from Mamallapuram and silks from Kanchipuram here.
Chennai Sightseeing
Built in the 17th century, this fort was built under the supervision of Francis Day and Andrew Cogon and houses St. Mary's Church and a museum. Built in 1680, St. Mary's Church is the oldest Anglican Church in India and has some of the oldest British tombstones in India. It was here that the marriage of the couple who founded the Yale University in the States was solemnized.
How to Reach Chennai
Chennai Hotels
:
Taj Coromandel
Trident Hilton Chennai
Radha Park Inn
Hotel Palmgrove