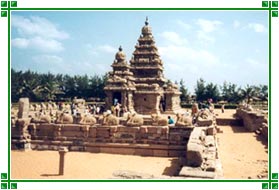 Mahabalipuram or Mamallapuram became the capital of Pallava rulers after Kanchipuram. 58 km from Madras, the tiny seaside village on the shores of Bay of Bengal is world-famous for its shore temples. The boulder-strewn landscape of the village is hardly a consideration for the huge influx of tourists who come here to explore its miles of unspoiled beaches and witness the splendor of the rock-cut art and architecture of the region. Unlike the other shrines in Tamil Nadu, the sculpture of Mahabalipuram depicts scenes from day-to-day life, instead of the carvings of Gods and Goddesses. The artistic architecture of Mahabalipuram can be broadly categorized into four parts: open-air bas-reliefs, structured temples, man-made caves and rock-cut 'rathas' or chariot-temples carved from single boulders.
There are open-air bas relieves of the famous Arjuna's Penance and the Krishna Mandapam that consist of massive rocks-carvings at the centre of the village. The most famous of all, the glorious Shore Temple stands tall looking at the waves of the sea, behind the protective shield of 'breakwater'. There are about 16 manmade caves scattered around the area that are in different stages of completion. A rocky protrusion between the beach and a lagoon, Mahabalipuram looks gorgeous with its rich historical legacy, wonderful beaches, excellent facilities and amenities for tourists and delicious fish-and-lobster cuisine. It is surprising to see how the place has managed to keep itself away from the vices of commercialization despite the huge influx of tourists and has remained friendly and relaxed.
Mahabalipuram Tourist Attractions
Arjuna's Penance is 27 metres long and 9 metres high bas-relief believed to be the world's largest bas-relief. It consists of two huge boulders with a cleft in the rock that depicts the descent of the Ganga on Earth to fulfill the wish of King Bhagiratha to redeem the cursed souls of his ancestors.
How to Reach Mahabalipuram