'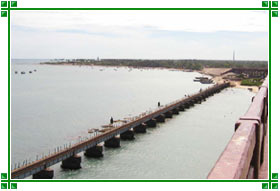 Varanasi of the South, Rameshwaram is one of the most sacred Hindu pilgrimage centres in India, second only to Varanasi itself. However, a pilgrimage to Varanasi too is not considered complete without a trip to the temple of Sri Ramanatha in the island of Rameshwaram, where Lord Rama worshipped Lord Shiva on his way back from his triumphant expedition to Lanka. The temple is said to enshrine one of the 12 Jyotirlingas of India. Pilgrims flock over to the place to fulfill one of the most ancient injunctions of Hindus and which has long been a tradition of South Indian people, especially Tamilians. Shaped like a conch, this colossal temple was originally built by Lord Rama himself. A magnificent railway bridge connects the island to the mainland. One can see Sethu here, the bridge said to be built by Sri Rama and his army to cross over to Lanka and the Sethupathis of Ramanathapuram (ancient name of Rameshwarm) were called the 'guardians of the Sethu'.
The Ramanatha tample sports three Prakaras, four Gopurams (two of which are incomplete) and two Lingas under worship along with twenty-two 'Tirthas' or sacred bathing places in its complex. One of the colossal Gopuram has about four thousand pillars and looks like a methodically set-up forest. The main sanctum enshrines Linga of Sri Ranganatha, which was made by Goddess Sita herself and was instituted by Lord Rama. However, there is another Linga of Vishvanatha, which was said to be made by Hanuman and was blessed to be worshipped first to pacify his anger on getting on with the ceremony withoutwaiting for him. Other highlights of Rameshwaram are Gandamadhana Parvata, Sri Kodandarama temple at Dhanushkodi, temple at Tiruppullani where the Lord obtained divine bow and arrows from its presiding Deity and the temple of Sri Anjaneya at Sethu.
Shopping Attractions:
At Rameshwaram, you can buy handicraft items as gifts and souvenirs such as the articles made from palm leaf, beads and seashells along with the the splendid silk saris.
Rameshwaram Tourist Attractions
A pilgrimage centre and enshrining one of the 12 Jyotirlingas of India, it is said that Lord Rama worshipped Shiva here on his way back from Lanka. The island of Rameshwaram, where it is situated is connected to the mainland by a bridge.
How to Reach Rameshwaram