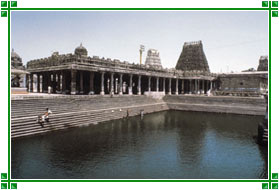 Kancheepuram or Conjeevaram is situated on the banks of River Vegavati. While Kalidasa referred to the city as the best among the cities (Nagareshu Kanchi) in his works, Yuan Chwang, the great Chinese traveler, who wandered to the place in the 7th century, wrote about the bravery, piety, love of justice and veneration for learning of its people. According to the latter, Buddha had also visited the place. Often referred to as the 'Kashi Of the South', it is one of seven of the the most sacred towns for Hindus. The erstwhile capital of Pallavas, it was fortified by them ramparts and moats for security purposes. Many of the wide and well laid out roads and temples were founded during their period. Once a major maritime power, it had contacts with far-off China, Siam and Fiji.
Kanchipuram has a long history behind it. Cholas ruled the town from 10th - 13th century and Vijayanagara dynasty ruled from 14th - 17th century. Ekamabaranadhar temple with a height of 192-ft high tower and the Varadaraja Perumal temple with 100-pillar mandapam are some of the most splendid architectural gems of Vijayanagara Dynasty. Ancient city of Kanchipuram or the city of thousand temples has 108 temples dedicated to Siva and 18 to Vishnu along with Adi Shankaracharya Mutt and scores of other temples, mosques and churches. Apart from the temples and shrines, Kanchipuram is well renowned for handloom industry, traditional cotton and silk saris. The skills of the silk weavers of Kanchi settled here for more than 400 years ago are legendary and are said to be the producer of the best silk sarees in the country.
Kanchipuram Tourist Attractions
The deity Sri Ekambareswara here is in the form of 'Prithvi Lingam'. According to a legend, Kailash Parvathy, Shiva's consort, playfully closed his eyes bringing darkness to the entire world. Lord Shiva angrily cursed her to become black like Kali. The goddess however did penance here and made a lingam under a mango tree. The temple is spread over an area of 20 acres and has a 58.5 m tall south gopuram.
How to Reach Kanchipuram