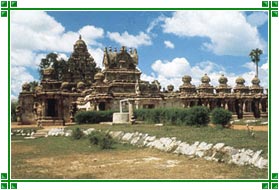 Sri Ekambareswara Temple
:
The deity Sri Ekambareswara here is in the form of 'Prithvi Lingam'. According to a legend, Kailash Parvathy, Shiva's consort, playfully closed his eyes bringing darkness to the entire world. Lord Shiva angrily cursed her to become black like Kali. The goddess however did penance here and made a lingam under a mango tree. The temple is spread over an area of 20 acres and has a 58.5 m tall south gopuram.
Sri Kailasanatha Temple
:
The 8th century temple was made by Rajasimha of the Pallava in red sandstone. Among the innumerable carvings, the Urdhva Tandava dance of Siva and the laughing face of Parvati are fabulous. The architecture of the temple looks like that of the Shore Temple at Mamallapuram.
Sri Vardaraja Perumal Temple
:
The highlight of the Vishnu Kanchi is the temple of Varadarajaswamy constructed by the Vijayanagar rulers. The amazing sculptures of the pillars and the ornamental rings carved out of single stone at the Four Corners of the mandapam attract attention.
Sri Kamakshiamman Temple
:
One of the three Shakti peethas of India, the patron deity of Kanchi is Goddess Kamakshi, having Saraswati, Lakshmi and Parvati as her eyes. The sanctum sanctorum faces southeast in the centre of Gayatri Mandapam, a delightful grove of Champaka trees.
Sri Ulagalandar Temple
:
This Vaishnava Temple of Chola period, it features the idol of the main deity as 35 feet high and 24 feet wide, called Trivikrama. This temple is said to be one of the 108 Divya Desam's of Lord Vishnu.
Sri Vaikunda Perumal Temple
:
This 7th century temple is famous for its architecture with the God in the seated posture and Goddess known as Sri Vaikunthavalli Tayar. It has great sculptures and inscriptions and its inner walls are decorated with lion shaped pillars.
Sri Kacchapaeswarar Temple
:
In this temple, Lord Vishnu is shown worshipping Lord Siva in the form of turtle (kurmemerali).
Sri Vijayaraghava Perumal Temple
:
One of the 108 Divya desams, it is said to be the site where Lord Rama is said to have performed the funeral rites for Jatayu, the giant bird who sacrifices his life for him.
Jain Temples at Tirupparuthikkundram
:
The 9th century temples of the Jain Tirthankaras contain several fresco paintings and a grand image of Bhagwan Mahaveer.
Sri Subramaniya Swami Temple
:
Built around in 1915, this temple gained its significance due to its location for Hindus on pilgrimage. According to the Hindu scriptures, this temple is located in the city in the rare 'Soma Skandha' Posture.