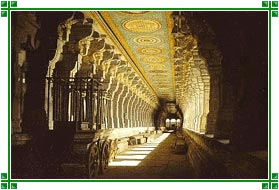 The Temple of Sri Ramanatha
:
A pilgrimage centre and enshrining one of the 12 Jyotirlingas of India, it is said that Lord Rama worshipped Shiva here on his way back from Lanka. The island of Rameshwaram, where it is situated is connected to the mainland by a bridge. A pilgrimage to Rameshwaram is one of the important injunctions of the Hindus and a pilgrimage to Kashi is not considered complete without a pilgrimage to Rameshwaram.
Gandamadhana Parvata
:
Situated just outside the Ramanatha temple, the Gandamadhana Parvata has a Mandapam that enshrines footprints of Sri Rama. It offers excellent views of the island.
Temple Of Sri Kodandarama
:
About 8 km from the temple is the beautiful temple of Sri Kodandarama where, tradition says, Vibishana was crowned king of Lanka when he joined Sri Rama.
Sethu
:
5-km south of the Ramanatha temple is Sethu, said to be the bridge built by Sri Rama and his army to cross over to Lanka. There is a celebrated temple of Sri Anjaneya here. It is said that in Devipatnam or Navapashanam, there are nine stones visible in the sea, visible at low tide. It is believed that these stones represent 'Navgrahas' (nine planets) and were set up by Sri Rama.