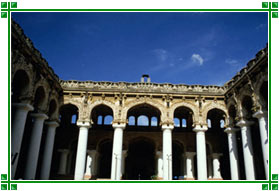 Meenakshi Amman Temple
:
An icon of Tamil Nadu religious centre, Meenakshi Temple is built in Dravidian architectural style. Pilgrims and tourists from all over India and world pour in to visit the temple. The southern Gopuram of the temple offers a great view of the city.
Vanditur Mariamman Teppakulam
:
This 17th century tank covers an area that equals to that of six Meenakshi temples. It was built by Tirumalai Nayak and it is said to be connected by the channels to the Vaigai River.
Thirumalai Nayak Mahal
:
An excellent example of Indo-Saracenic architecture, this 16th century palace was originally four times the present-day size. The ruins today show the main entrance gate, the dancing hall and the main hall. However, it is the light and sound show based on the life of 'Tirumalai Nayak' and 'Silapathikaram', which is the chief attraction here.
Koodal Azhaar Temple
:
One of the most ancient Vishnu temples in Madurai, Koodal Azhagar temple shows Lord Vishnu in various postures sitting, standing and reclining while one of the elaborate woodcarving depicts Lord Rama's coronation.
Azhagar Koil:
:
This Vishnu temple near Madurai enshrines the gold image of Azhagar, which is taken out in a grand procession for the divine marriage during the Chithirai festival.
Pazhamudhirsolai
:
It is one of the six abodes of Lord Subramanyam and is situated on the same hills of Azhagar Koilthis.
The Gandhi Museum
:
The palace of Rani Mangammal turned museum exhibits clear account of the history of Independence movement of India. Besides the rare facts related to Gandhiji, it also has the blood stained Dhoti that Gandhiji wore at the time of his assassination, on its display.
Thirupparankundram
:
The rock-cut temple near the cit is said to be one of the abodes of Lord Sundareshwara.
Wedding Ceremony Of Goddess Meenakshi
:
The wedding anniversary of Goddess Meenakshi and Lord Sundareshwar that falls in March or April is one of the most joyous festivals in Madurai. Images of the divine couple are taken around the city in a grand procession seated in a tastefully decorated chariot. Thousands of people throng the streets to witness it as the beats of Nadaswaram and drums add to the festive ambience.
Float Festival:
:
The annual float festival features the images of Meenakshi and her consort floating on a raft richly decorated with flowers and lights in the Mariamman tank.