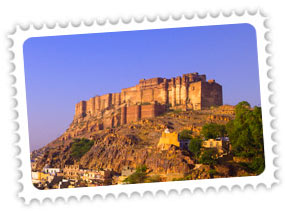 Location:
Jodhpur, Rajasthan
Highlight:
One of the largest forts in India
Best Time to Visit:
October to March
How to Reach:
Jodhpur has its own airport and railway station and one can reach Mehrangarh Fort via a wide network of roads that connect it with all nearby places.
One of the largest forts of India, the Mehrangarh Fort in Jodhpur is an imposing structure with massive walls that stand undeterred till today. Situated at a staggering height of around 400 feet on a high undulating hill, Mehrangarh Fort in Rajasthan is truly an architectural wonder. The fort truly lives upto its name of Mehrangarh, which literally means "majestic fort". Strong massive walls protect the interiors of the fort that consist of numerous palaces that have beautiful architectural designs and carvings. In the following lines you shall find more information regarding the famous Mehrangarh Fort of Jodhpur.
The fort now houses a museum, which is one of the finest museums in Rajasthan. It is one museum that has been laid out after careful planning. Among the exhibits, one can find the royal collection of the Rathores and Rajputs that have been carefully preserved by he museum authorities. These royal collections include paintings, arms and ammunition, costumes and rare photographs.
There is one section in the museum that is dedicated entirely to palanquins. There is an exquisite collection of old and royal palanquins. The most famous of them is the Mahadol palanquin, which was won in a battle in the year 1730. It is said that the dome of the palanquin is covered with gold. The palanquins were actually once used by the Maharajas here. They have been well maintained till date for tourists to see and admire the work of art.
The most beautiful of all the chambers in the fort is the Phool Mahal. It was a private and exclusive chamber of the King. Maharaja Abhaya Singh got the Phool Mahal constructed for spending his leisure time. The chamber was designed beautifully in intricate carvings filled with gold. The gold was won in a battle against a Mughal Governor known as Sarbuland Khan.
Another chamber that is worth the visit is the Jhanki Mahal that was constructed exclusively for the royal ladies. Since they could not be seen publicly, they watched the proceedings in the royal courts from the small windows of this chamber. The Jhanki Mahal today houses a collection of intricately carved mirrors that have images of elephants, birds, camels and heavenly figures.