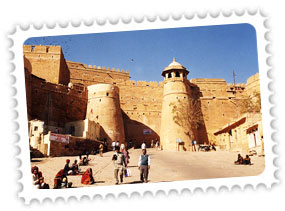 Location:
Heart of Jaisalmer, Rajasthan
Highlight:
Splendid architecture and markets
Best Time to Visit:
October to March
How to Reach:
The nearest airport is at a distance of 300 kilometers at Jodhpur. Jaisalmer has its own railway station and a wide network of roads. The fort can be easily reached by hiring a cab.
Situated deep inside the Thar Desert is the majestic Jaisalmer Fort of Rajasthan. It is supposed to be one of the biggest desert forts in the world. The magnificent Jaisalmer Fort is said to be around 800 years old. Although located in the desert, this major settlement was once an important trade route. Due to new means of transportation and new shipping routes, this fort was ignored with times to come. Even today the Jaisalmer Fort of Rajasthan stands upright in its entire splendor and has succeeded in placing a remote place like Jodhpur on the world map as one of the most frequented tourist destinations in India. Given here is further information about the Jaisalmer Fort in Rajasthan.
The Jaisalmer Fort is made up of golden yellow sandstones because of which the Fort is locally known as Sonar Quila (Golden Fortress). Jaisalmer was founded around 1156 A.D. by a Rajput ruler named Raja Rawal Jaiswal. The famous Indian film-maker Satyajit Ray also wrote a novel based on the fort and called it "Sonar Quila". It was later made into a movie. The Fort comprises of Jain Temples, a royal palace, magnificent havelis (mansions) and four huge gateways and is located on top of the Trikuta Hill.
The Fort stands tall reaching a staggering height of 250 feet and houses nearly one fourth of the ancient city's population. The fort receives its supply of water from in-built wells. The fort used to house the entire population of the city at one point of time, but as the population grew, people had to move out of the fort and take shelter at the base of the Trikuta Hill. The Jaisalmer Fort is worth seeing and will leave an everlasting image on your mind.