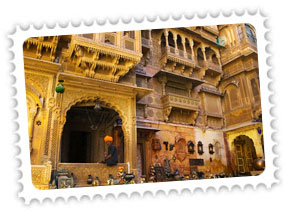 Location:
Jaisalmer, Rajasthan
Highlight:
Five storey high mansion with exquisite carvings
Best Time to Visit:
October to March
How to Reach:
Jaisalmer can be reached easily as the place is connected by a wide network of roads and also has a railway station. The nearest airport is at a distance of 300 kilometers in Jodhpur. Patwon ki Haveli can be reached easily from anywhere in Jaisalmer by hiring an auto or a cab.
The Patwon Ki Haveli in Jaisalmer is a place that will have you mesmerized the moment you lay your eyes on it. It is considered to be one of the most beautiful and majestic havelis of Rajasthan. It is also known by the name of Salim Singh Ki Haveli. Salim Singh was the Prime Minister of this once princely province. The Patwon Ki Haveli of Rajasthan is known for its wonderful architecture and splendid carvings. The haveli has an arched roof with carved brackets that have been shaped like peacocks.
It is believed that the haveli had seven stories at one point of time, thus making it even taller than the palace of the King of Jaisalmer. However, the king had the upper two stories demolished and since then the Patwon ki Haveli has had five stories. The architecture of this Haveli is just gorgeous. It was built around 300 years ago and is still maintained well by the Archaeological Survey of India. The Haveli has huge corridors and beautifully carved pillars.
The inner chambers have gorgeous murals, paintings and stunning mirror work. It is said that the construction of the Haveli took almost fifty years. Though a part of this Haveli is maintained by the Archaeological Survey of India, the rest of the Haveli is occupied by families of the craftsmen who have shops within the premises of this magnificent Haveli. The Haveli should definitely be visited if you are traveling to Jaisalmer.