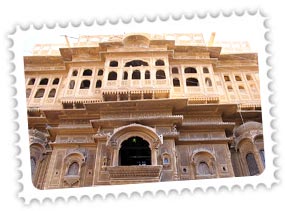 Location:
Jaisalmer, Rajasthan
Highlight:
Unusual Architecture
Best Time to Visit:
October to March
How to Reach:
Jaisalmer can be easily reached from anywhere in Rajasthan. The place has its own railway station and the airport is at a distance of 300 kilometers in Jodhpur. A wide network of roads connects the Haveli with other parts of the state, thus making it easily reachable.
Nathmal Ki Haveli in Jaisalmer is a famous landmark of this place. The architecture of this mansion is a unique blend of Rajput as well as Islamic style of construction. It is quite different from the other palaces and havelis around Rajasthan. Nathmal Singh Ki Haveli was supposed to be the official residence of the Prime Minister of Jaisalmer. There is an interesting story attached to how the place was built. Read about it in the following lines.
Two brothers named Hathi and Lulu were sanctioned with the responsibility of the construction of this magnificent haveli. They started building the haveli simultaneously with each brother concentrating on one side of the haveli. The result of building it simultaneously showed up in the haveli with different left and right sides! However, it didn't look too obvious and it comes into notice only when observed a bit closely.
The haveli was decorated grandly. The entrance of the haveli has two gigantic elephants carved out of yellow sandstone that look almost real. The pillars are enormous with delicate carvings on them. The walls have vivid description of flora and fauna and have been designed with lovely paintings and carvings. The haveli is a must see for those interested in basking in the old world charm of Rajasthan.