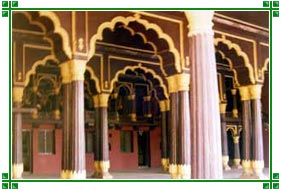 Cubbon Park
:
Lord Cubbon laid down the 300-acre park in 1864. A perfect place for joggers and nature walkers, it also has red Gothic structures to see such as the State Central Library with its rare treasure of books, architectural style and fluted pillars, the High Court, the Cheshire Dyer Memorial Hall, Ottawa Chatter, Museum, Century Club and the Press Club.
Lalbagh Gardens
:
A small fruit orchard of Hyder Ali, this garden had the glory of Tippu Sultan introducing several exotic trees here such as Cypress, Thuja, Junipers, Grapes, Guavas, Raspberries and Strawberries while John Cameron's period was certainly its 'Golden Era'. The Lalbagh Glass House once displayed the flora imported from England.
Vidhana Soudha
:
An imposing 46m high Bangalore granite monument that resembles the Temple architectural style houses the Legislative Chambers of the state government. The building has 22 departments and 300 rooms, four domes on all its corners and the four-headed lion.
Jawahar Bala Bhavan
:
Children's amusement park and recreation center near Cubbon park and the Dolls museum, the highlights here are the toy train, a 20 million year old fossilized tree from Geological Survey of India and boating facility. Children film shows and theatre performances at Vijayaranga Theatre are other forms of entertainment available here.
The Fort
:
Originally built in mud by Kempe Gowda in 1537, Tippu extended and fortified the fort and is known today for its beautifully carved Islamic-style arches, the well-preserved Ganapathi Temple and beautiful carvings on its exteriors depicting Sri Krishna playing his flute.
Tippu's Palace
:
Similar in many ways to the Summer Palace of Tippu Sultan at Sriangapatna, this palace was begun by Haider Ali and completed by Tippu in 1791. Known as `Rashk-e-jannat' (Envy of Heaven), it has massive wooden work and is known for five exquisitely ornamented arches with beautiful minarets and paintings on walls and ceilings.
Indian Institute of Science
:
The premier science research institute of Tatas has the distinction of being the place where the Nobel Prize laureate C.V. Raman and space expert Vikram Sarabhai worked. Krishna Raja Wodeyar, Maharaja of Mysore, laid down the foundation of the classic European style buildings and central quadrangle with attractive Persian motifs on February 1, 1911. It has 22 departments of different branches of science and a collection of over 2,68,000 books.
Government Aquarium
:
An octagonal building of the Cubbon Park, the Govt. Aquarium exhibits cultivable as well as ornamental pet fishes such as Hocks stick, Pearl Coushmi, India Tiger Borb, Moon Tail and edible fishes.
Gandhi Bhavan
:
The Gandhi Smarak Nidhi (memorial of Father of India, Gandhiji) in the Gandhi Bhavan exhibits pictures and photos depicting Gandhiji's life from early childhood till the day of his death. One can also read copies of Gandhiji's letters to famous personalities of his time to fully comprehend his philosophy and his views on various subjects.