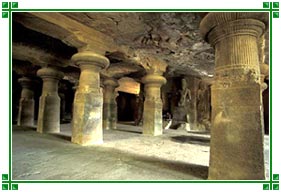 Destinations Covered:
Mumbai - Aurangabad - Ajanta - Ellora - Hyderabad - Golconda - Chennai - Mahabalipuram - Kancheepuram - Mysore - Belur - Halebid - Bangalore
Duration:
14 Nights / 15 Days Tour
Day 1 Mumbai
Welcome to Mumbai.
Transfer to hotel for overnight stay.
Day 2 Mumbai
Morning boat ride to Elephanta Caves.
Elephanta Caves
- Just one-hour from Mumbai, a ride on motorboat will take you to the Elephanta caves, a UNESCO World Heritage Site. Said to be the home of Lord Shiva, these caves are rich in mythological, spiritual, historical, cultural and architectural value and display beautiful paintings and sculptures. Dating back from 9th to 12th century, the cave temples of Elephanta were constructed during the reign of Silhara kings.
Afternoon half-day sightseeing tour of Mumbai including Gateway of India, Marine Drive, Hanging Gardens and Prince of Wales Museum.
Mumbai
- The seat of Bollywood, the Indian film industry, the most notable highlights of Mumbai or Bombay are Gateway of India built in 1911, Prince of Wales Museum showcasing antique articles of art, sculpture, china, rare coins, weaponry and miniatures, Kamala Nehru Park, Hanging Gardens and Marine Drive known for its top-notch night life.
Overnight stay at the hotel.
Day 3 Aurangabad
Flight to Aurangabad.
Transfer to hotel for overnight stay.
Day 4 Ajanta Caves
Excursion trip to Ajanta Caves.
Ajanta Caves
- Listed as one of the UNESCO world heritage sites, the 30 caves of Ajanta date back from 200 BC to 250 AD and are cut out from volcanic rocks of Deccan India. Situated in the forest ravines of Sahyadri Hills, it displays two basic types of monastic Buddhist architecture such as the Chaityas (prayer halls) and Viharas (monasteries).
Overnight stay at hotel.
Day 5 Ellora Caves
Morning excursion tour of Ellora Caves featuring Kailash Temple.
Evening transfer to Hyderabad via overnight train.
Day 6 Hyderabad
Welcome to Hyderabad.
Transfer to hotel for overnight stay.
Sightseeing tour of the city including Charminar, Salarjung Museum and markets of Hyderabad.
Day 7 Golconda
Excursion tour to Golconda Fort.
Overnight stay at Hyderabad.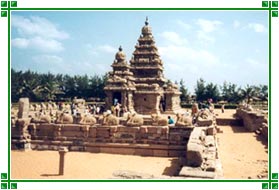 Day 8 Chennai
Morning flight to Chennai.
Transfer to hotel for overnight stay.
Half-day sightseeing tour of Chennai including Dakshin Chitra.
Chennai
- Chennai or Madras is a bustling metropolitan city of India and the capital of Tamil Nadu. It is home to the famous Marina Beach, the second longest beach in the world. One can see here the archaeological section and bronze gallery of the Museum, Dravidian style Lord Shiva's Kapaleeshwar Temple, East India Company's St. George Forte, Santhome Cathedral, Parthsarthy Temple, Guindy National Park and Snake Park.
Day 9 Mahabalipuram & Kancheepuram
Excursion tours to Mahabalipuram and Kanchipuram.
Mahabalipuram
- The shore temples of Mahabalipuram or Mamallapuram are known all over the world as an open stone art gallery and present stone sculptures that can be seen strewn all over the city along with the structured and chariot-shaped temples known as 'Rathas' and artificial caves cut out from volcanic rocks of Deccan India. However, the spotlight in the city falls on the Shore Temple on the beach.
Kanchipuram
- The city of thousand temples, Kanchipuram is one of the seven most sacred Hindu pilgrimage centers in India. Besides the thriving handloom and cotton industry, it is known for its 108 temples dedicated to Lord Shiva, 18 temples dedicated to Lord Vishnu, Adi Shankararchya's Ashram and silk weavers that have been living here for more than four centuries and are known to produce best silk sarees in the entire country.
Overnight stay at Chennai.
Day 10 Mysore
Morning transfer Mysore via train.
Welcome to Mysore.
Transfer to hotel for overnight stay.
Day 11 Belur & Halebid
Excursion trip to Belur and Halebid. Visit the the Chennakesava Temple at Belur and Shiva Temple at Halebid.
Belur and Halebid
- These twin cities are home to some of the best Hoysala architecture. Hoysaleswara Temple at Halebid is said to have started about 10 years after the temple of Belur but even after 80 years of labor, it was still left incomplete. Adorned with innumerable Hindu deities, sages, stylized animals and birds and statues of lifestyle of the people at the time, on the exteriors, which give the temple its unique identity, it is a wonder that none of the two images are alike. The sculptures depict war, hunting, music, dance and other courtly activities.
Overnight stay at Mysore.
Day12 Mysore
Sightseeing tour of the city including Maharaja Palace, Art Gallery and Chamundi Hills and visit Chamundeshwari Temple and Nandi Bull.
Mysore
- The City of Palaces, Mysore is home to Mysore Palace built by Wodeyars in the Indo-Saracenic style with its Golden Roya Elephant Throne, Durbar Hall, Kalyana Mandap and Gallery. The other city highlights are St. Philomena's Church, one of the largest churches in the country, monolith of Nandi bull on the slopes of Chamundi, the 2000-year-old Chamundeswari Temple and the Brindavan Gardens with musical and colorful fountains.
Overnight stay at Mysore.
Day 13 Hassan
Drive to Hassan via Sravanbelgola.
Overnight stay at Hassan.
Day 14 Bangalore
Drive to Bangalore enroute visiting Srirangapatna to see Tippus Dariyadaulat, Gumbaz and the Nimishambha temples.
Overnight stay at Bangalore.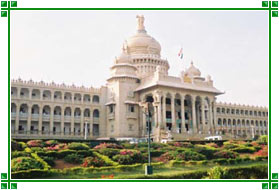 Day 15 Bangalore
In the morning half-day sightseeing tour of Bangalore.
Bangalore
- The Silicon Valley of India, Bangalore has managed to keep itself closer to nature than most of the other metropolitans in India. Hence, it is also known as the City of Gardens. The city highlights are the Bangalore Fort housing 16th century Ganapathi Temple, Tippu Palace famous for its carving and paintings, 17th century Venkataramanaswamy temple, Lal Bagh, Botanical Gardens, Bull Temple, Gangadhareshware temple or Cave Temple, the Dharmaraja Temple, the Ravindra Kalakshetra, St. Mary's Church, Gandhi Bhavan, the famous racecourse and Vidhana Soudha, a neo-Dravidian granite building near Cubbon Park.
Evening flight to Mumbai.
In Mumbai, transfer to airport for flight to onward journey.