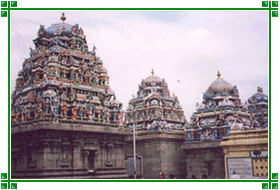 Destinations Covered:
Chennai -Mysore - Hassan - Bangalore - Kovalam - Periyar - Madurai - Trichy -Pondicherry - Mahabalipuram - Chennai
Duration:
13 Nights/14 Days
Day 1 Arrival at Chennai
Upon arrival at Chennai our representative will receive and transfer you to hotel for overnight stay. Sightseeing tour of the city including National Art Gallery, Government Museum, Fort St. George, Marina Beach,Kapaleeshwar temple, Senate House and San Thome Cathedral.
Chennai
- Chennai or Madras is a bustling metropolitan city of India and the capital of Tamil Nadu. It is home to the famous Marina Beach, the second longest beach in the world. One can see here the archaeological section and bronze gallery of the Museum, Dravidian style Lord Shiva's Kapaleeshwar Temple, East India Company's St. George Forte, Santhome Cathedral, Parthsarthy Temple, Guindy National Park and Snake Park.
Day 2 Chennai - Mysore
In the morning you will be driven to Mysore. Upon arrival transfer to hotel for overnight stay. Thereafter you will be taken for an excursion to the temple at Chamundi Hill.
Day 3 Mysore
After breakfast you will be taken for a sightseeing tour of the city including Maharaja's Palace, Brindavan Gardens and St. Philomena's Church.
Mysore
- The City of Palaces, Mysore is home to Mysore Palace built by Wodeyars in the Indo-Saracenic style with its Golden Royal Elephant Throne, Durbar Hall, Kalyana Mandap and Gallery. The other city highlights are St. Philomena's Church, one of the largest churches in the country, monolith of Nandi bull on the slopes of Chamundi, the 2000-year-old Chamundeswari Temple and the Brindavan Gardens with musical and colorful fountains.
Day 4 Mysore - Hassan
In the morning tou will be driven to Hassan. Upon arrival at Hassan we will take you for an excursion to Belur and Halebid to visit magnificently carved temples.
Belur and Halebid
- These twin cities are home to some of the best Hoysala architecture. Hoysaleswara Temple at Halebid is said to have started about 10 years after the temple of Belur but even after 80 years of labor, it was still left incomplete. Adorned with innumerable Hindu deities, sages, stylized animals and birds and statues of lifestyle of the people at the time, on the exteriors, which give the temple its unique identity, it is a wonder that none of the two images are alike. The sculptures depict war, hunting, music, dance and other courtly activities.
Day 5 Bangalore
From Hassan you will be driven to Bangalore. Half-day sightseeing tour of the city including Cubbon Park, Tipu Sultan's Palace and Lallbagh gardens.
Bangalore
- The Silicon Valley of India, Bangalore has managed to keep itself closer to nature than most of the other metropolitans in India. Hence, it is also known as the City of Gardens. The city highlights are the Bangalore Fort housing 16th century Ganapathi Temple,ippu Palace famous for its carving and paintings, 17th century Venkataramanaswamy temple, Lal Bagh, Botanical Gardens, Bull Temple,Gangadhareshware temple or Cave Temple, the Dharmaraja Temple, the Ravindra Kalakshetra, St. Mary's Church, Gandhi Bhavan, the famou racecourse and Vidhana Soudha, a neo-Dravidian granite building near Cubbon Park. Later you can indulge in theexciting nightlife of the city.
Day 6 Bangalore - Trivandrum - Kovalam
Our representative will help you to catch the Trivandrum bound flight. Upon arrival at Trivandrum our representative will transfer you to the beach resort at Kovalam. Later on you can indulge in beach activities such as sunbathing and swimming.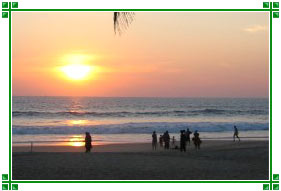 Day 7 Kovalam
In the morning you can visit the Kovalam beaches and enjoy traditional cuisine of Kerala.
Kovalam
- Kovalam is known for its golden sands bordered by coconut palm trees. 16 km from Trivandrum, it was once a fishing village and is now an evergreen beach resort with a pleasant climate. Known as the 'Paradise of the South', Kovalam is now one of the most favoure tourist destinations all over the world. The scenic beauty, serenity and the seafood along with Ayurvedic massage parlors, yoga centers and water sport facilities make Kovalam a popular haven for tourists. Overnight stay will be at Kovalam.
Day 8 Kovalam - Periyar
In the morning you will be driven to Periyar wildlife sanctuary through rubber and cardamom plantations.
Periyar Wildlife Park
- Best-known wildlife sanctuary in South India, Kerala's Periyar Wildlife Sanctuary and Tiger Reserve is famous for wild Indian elephants and a century old artificial lake set in the beautiful thick woods of Western ghats. The other highlights here are Nilgiri Langoors, Nilgiri Tahrs, Bisons, Deers and Antelopes. Besides one can spot about 100 species of butterfly and 240 species of birds here and take a tour of the aromatic spice gardens around the park.later you will transfer to hotel/resort for overnight stay. In the evening you will be free to relax and explore aromatic coffee plantations.
Day 9 Madurai
In the morning you will be taken for a boat cruise on Lake Periyar to see Wild Elephants. Thereafter you will go for a Safari to the Periyar wildlife sanctuary featuring Tigers and other wild animals. Later you will be driven to Madurai. Upon reaching Madurai our representative will transfer you to hotel for overnight stay at Madurai.
Day 10 Madurai
In the morning we wil take you for a sightseeing tour of the city including the Meenakshi temple.
Madurai
- Famous for the Meenakshi Temple, around which Madurai was built in shape of a lotus, this temple town of South India was once the capital of the Pandya rulers. Originally, it was named as 'Madhurapuri' as it is said that Lord Shiva showered divine nectar here on the day it was to be named. Jasmine flowers of Madurai are very famous.
Evening free to relax and explore the city.
Day 11 Madurai - Trichy
In morning we will drive you to Trichy and later for a sightseeing tour of the city including Rock Fort Temple, Vinayaka Temple and Srirangam Temple complex.
Trichy
- Tiruchirappalli or Trichy is the fourth largest city of Tamil Nadu. Passing hands from Cholas to Pallavas to British, Trichy has a long history. Its highlights are the Rock Fort, several Churches, Colleges and Missions of the city are worth seeing. It was built by the Nayaks of Madurai and is the witness to the famous Carnatic wars that decided the fate of British and French in India. It is also known for its artificial diamonds and cigars.
Day 12 Trichy - Pondicherry
Breakfast folows transfer to Pondicherry, which folows an excursion tour of Auroville and Sri Aurobindo Ashram and explore the archaeological excavations and French period furniture.
Pondicherry
- With a rich history evolved with the settlements of Greeks, Romans and French, Pondicherry has a cosmopolitan outlook. It is said to be the residing place of Sage Agastya with a spiritual aura. It is home to grand boulevards and colonial mansions such as Aayi Mandapam, Palais du Gouvernement, Ananda Ranga Pillai's Mansion, Goubert Avenue or Beach Road, French War Memorial, the Statue of Dupleix, 19th Century Lighthouse, Romain Rolland Library, Botanical Garden and Aquarium, the Anglo-French textile mill, churches, Aurobindo Ashram,Auroville and the Matri Mandir.
Day 13 Pondicherry - Mahabalipuram
After breakfast we will drive you to Mahabalipuram. Sightseeing tour of the city including Arjuna's penance, Krishna Mandapam, Varaha Mandapam,Five Rathas and Shore Temples.
Mahabalipuram
- The shore temples of Mahabalipuram or Mamallapuram are known all over the world as an open stone art gallery and present stone sculptures that can be seen strewn all over the city along with the structured and chariot-shaped temples known as 'Rathas' and artificial caves cut out from volcanic rocks of Deccan India. However, the spotlight in the city falls on the Shore Temple on the beach.
Day 14 Mahabalipuram - Chennai
After breakfast you will be picked up froim the hotel and driven to Chennai for flight to onward destination.