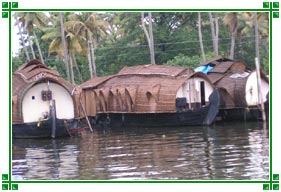 Destinations Covered:
Alleppey - Champakulam - Pulincunnu - Kumarakom
Duration:
03 Nights / 03 Days
Day 1 Alleppey
Pick up from Alleppey Finishing Point Jetty at 1200 hours.
Alleppey
- One of the best ports along Malabar Coast and an important trade centre, Alleppey is known for a large network of inland canals. A hub and a base for most of the backwaters and boat cruises, has carved out quite a name for Alleppey and large number of tourists visit the city every year. These backwater cruises are the best way to see the glimpse of the rural life style of Kerala where natives still indulge in the traditional, outdated and laborious tasks of toddy tapping, fishing, coir-making industry and prawn farming and see the greenery and the rich avian life thriving in many of the lake islands.
Backwater cruise through rural Kerala where natives engage themselves in toddy tapping, fishing, coir-making industry and prawn farming including Pallathuruthy, Karimpavalavu, Kanjippadam and Karumady Canal. You will be taken to the Karumady Kuttan. Overnight stay will be at Thottappally.
Day 2 Champakulam
Cruise through Thondapra, Thakazhy, Pullangady to reach Champakulam. Sightseeing tour of Champakulam including 200-year-old Champakulam Church and see famous snake boat known as Champakulam Chundan, Kottaram temple and Kalloorkkadu angadi.
Kettuvallams, the old rice-barges or Kerala has now been converted into houseboats and are much popular with the tourists. Surprisingly, it is hand-made and not even nails are used to make these boats. The slow movement of the boats suit the purpose of leisurely enjoying the colorful village scenery of the South. After breakfast, cruising through Azhikkal Canal passing through Kuppapuram, Pallathuruthy, Swamy Canal, Meenappally Kayal, Muttael Canal, Kainakary Church Canal, Vatta Kayal, Venattukadu Canal, Aakkathara Canal and Paddy fields is once-in-a-lifetime experience. You will continue cruising through Nedumudy, Munnattumugham to reach Mancompu. Sightseeing tour of Mancompu including Mancompu temple and Bhagvathy Temple. Overnight stay at Onnamkara.
Day 3 Pulincunu
We will take you for a cruise at Pulincunnu. Sightseeing tour of Pulincunnu including Pulincunnu Church and local market. Cruise through Puthenthodu, Kavalam, Liziu, 6000, Mangalam, D-Block, 4,000, C-Block, Marthadam and R-Block. Overnight stay at Chithira Kotha.
Day 4 Kumarakom
Cruise through Vembanadu Lake to reach Kumarakam at 1000 hours.
Kumarakom
- 14 km from Kottayam, Kumarakom is situated on the shores of Vembanad Lake in Kerala in the 'Kuttanad region' known as the rice bowl of Kerala. A cluster of little islands on the Vembanad Lake, the 14-acre bird sanctuary in Kumarakom is a favourite haunt of migratory birds such as Egrets, Darters, Herons, Teals and Siberian Storks. However, boat cruising in Kettuvallams, traditional houseboats of Kerala, round the islands is the best way to spot them. Drop-off after breakfast, where you can explore the region before departure to onward destination.