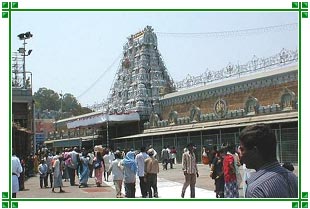 Most of the South Indian temples are built in Dravidian architectural style and have beautiful and elaborate sculptures adorning its walls and ceilings. Most of the temples follow strict rituals and some of them even bar non-Hindus from entering the premises. However, a few of them have become legendary and the religious icons of South India such as Tirupati Venkateswara Temple and the Kalahasteeswara Temple, which are the oldest temples of Andhra Pradesh dating back to the pre-Christian times and the 6th century Alampur Brahma temples of Badami that are excellent examples of Chalukyan art and sculpture. The temples built by Kakatiyas of Warangal from 11th to 14th centuries have elaborate sculptural work while the temples of northeastern Andhra Pradesh once under the rule of Ganga Kings show Orissan temple architectural style.
Sree Sailam temple and Lepakshi temples with flat-stuccoed granite ceilings and beautiful frescos are the highlights of Andhra Pradesh. The temples of Karnataka are built in Hoysala architectural style while some of the shrines are the rock-cut cave temples. The 7th century Badami cave temples, the 10th century Gomateshwara monolithic statue and intricately carved temples of Halebid, Belur and Somanathapura are internationally reputed for their sculptural work. The other famous temples of Karnataka include Atmalinga temple of Gokarna, early 15th century Hazara Ram Temple with sculptures of Lord Vishnu, Ugra Narsimha Temple at Hampi, the cave temple at Hidimbeshwara, the oldest temple on the hill and the 16th century Bull temple at Bangalore.
The temples of Kerala are unique with steep and pointed roofs covered with copper sheets. If the plan of the sanctum is circular, the roofs were made conical and if the plan was square in shape, the roof was made pyramidal in shape. Krishna temple at Guruvayoor is very famous while the temple at Sabarimala is known as much for the austerities and penance one has to follow before visiting the temple as the sanctity of the temple itself. The Tamils have been the greatest of temple builders. The prominent Pallava temples in Tamil Nadu are Shore Temple at Mamallapuram, Kailashanathar Temple, Vaikuntha Perumal Temple and Talagiriswara Temple at Kanchipuram. Chola temples include Brihadishwara temple at Thanjavur, Airavatesvara temple at Darasuram and Kampaharesvara temple at Thirubuvanam. Pandyas built notable Gopurams such as Sundara Pandya Gopuram at the Jambukeshvara temple and the Eastern Gopuram at the Chidambaram temple. The famous Ranganatha temple at Srirangam is however the most famous of all the temples at Tamil Nadu.