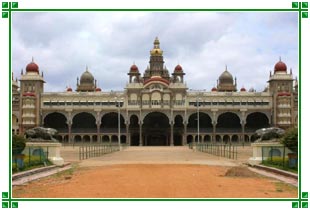 The monuments, temples and palaces of South India unfold a whole new world of historical, architectural, political, cultural, traditional and religious legacy and past of Deccan India. The cultural heritage of Andhra Pradesh consists of contributions and influences of successive dynasties that ruled it such as Ikshvakus, Pallavas, Chalukyas, Kakatiyas, Vijayanagaram Kings, Qutub Shahis, Mughals and Asaf Jahis. The capital of Andhra Pradesh, Hyderabad has a unique cultural identity with elements of both Hinduism and Islam and has several notable monuments including Charminar, Salarjung Museum, Mecca Masjid, Qutub Shahi Tombs and Falaknuma Palace. Besides the Golconda Fort, Nagarjuna Sagar Dam, the tallest masonry dam in the world, Hyderabad also has the magnificent Falaknuma Palace, a rare blend of Italian and Tudor architecture.
Karnataka's architectural monuments are heavily ornamented and include a long list such as Afzal Khan's Cenotaph and Ibrahim Roza at Bijapur, Vidhan Soudha, Bangalore Palace, Tipu's Palace and Daria Daulat Bagh Palace at Bangalore, the capital of Karnataka, Lotus Palace, Queen's Bath and Noblemen's Palace at Hampi, Takht Mahal at Bidar, Bahamani tombs at Ashtur, Mysore Palace and Gol Gumbaz. Kerala's monuments manifest a unique fusion of various styles of architecture hailing from as many countries that had trade connections with Kerala in the past through its sea ports and harbors such as European, Chinese, Jewish and Arabic styles along with 'Nalukettu', the indigenous architectural style of Kerala. Some of the most remarkable monuments are Krishnapuram Palace, Jewish Synagogue, Mattancherry Palace, Hill Palace, Kaudiar Palace, Bastion Bungalow, Bolghatty Palace, Chittur Garumadam, Neyyar Dam and Idukki Arch Dam, the world's second and Asia's first arch dam.
Dravidian architecture of Tamil Nadu monuments looks great with delicate and elaborate sculptures on the walls and ceilings. Chennai, the capital of Tamil Nadu has a large number of ancient monuments such as Bharathiyar Illam, Kamaraj Memorial House, Madras War Cemetery, Senate House, Rippon Building, Vivekananda Illam and Valluvar Kottam. Madutai's Thirumalai Nayak Mahal is a classic example of Indo-Saracenic style while the maze of 108 rooms of the Padmanabhampuram Palace is bewildering. The Rock Fort temple at Tiruchirappalli is yet another highlight of the state. Come, take a guided tour to these legendary monuments, forts and palaces of South India.