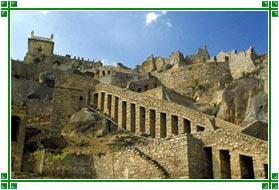 A land of a rich past and glorious architectural monuments, Andhra Pradesh cherishes its legacy from the successive dynasties of Ikshvakus, Pallavas, Chalukyas, Kakatiyas, Vijayanagaram Kings, Qutub Shahis, Mughals and the Asaf Jahis that ruled it and contributed significantly to its cultural heritage. Hyderabad, its capital, has a unique blend of Hindu and Muslim culture and has a larger share of the monuments and forts than the other cities of the state. The highlights of Hyderabad include Charminar, Salarjung Museum, Mecca Masjid, Qutub Shahi Tombs and Falaknuma Palace. Golconda Fort is legendary while Nagarjuna Sagar Dam, 1 km away from it, is the tallest masonry dam in the world. The 124 m high dam is built across River Krishna and has one of the largest networks of canal systems. Other unique feature of Golconda is that it houses the largest number of tombs at one place in the whole world. Nawab Vikar-ul-Ulmara of Hyderabad built the magnificent Falaknuma (meaning Star of Heaven) Palace as a gift for Mehboob Ali Khan, the sixth Nizam of Hyderabad. It is a rare blend of Italian and Tudor architecture.
Charminar
:
Often referred to as 'Arc de triomphe of the East', Charminar of Hyderabad is an architectural gem that was built by Quli Qutub Shah in 1591. It is so named because of the four elegant, graceful and intricately carved minarets soaring to height of 48.7 m each. Situated in the Lad Bazaar in the old city, this colossal monument has daunted over the city for more than four centuries now. Quli Qutub Shah had planned and established the new city of Hyderabad with square-shaped Charminar at its centre. The four arches of the monument face all the four directions and are 11 m wide and 20 m high from the base. The mosque here ranks finest amongst all built by the skilled artisans of Qutub Shahi times.
Golconda Fort
:
On the outskirts of Hyderabad, the grandiose Golconda fort stands as the quintessence of Nawabi culture and majesty. Built in 1525 by Mohammed Quli Qutub Shah, it speaks of a great cultural heritage of 400 years. The acoustic system of the Golconda Fort, the structural grandeur of its palaces and the ingenious water supply system are legendary examples of the architectural skills that have been put in its construction. It was once famous as a rich diamond mine in the medieval times and it is believed to be the place where the famed 'Kohinoor' diamond is said to have come from. The meticulous details of its architecture, sprawling lawns and gardens complete with fountains catches the attention of the onlookers.