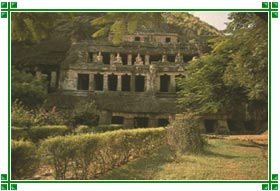 Located in the northeastern part of the Andhra Pradesh State, in the Krishna River delta, Guntur lies on the Vijayawada-Madras trunk road, about 9-km to the east of the picturesque Kondaveedu range of hills. It is the headquarters of the district of the same name. It is one of the oldest municipalities that have been constituted in 1866. The city was founded n the mid-eighth century by the French who ruled over the city for nearly ten centuries until it was ceded permanently to the British in 1788. A part of the city, which was once the small village of 'Ramachandrapuram Agraharam', is said to be much older than Guntur as mentioned in an inscription from 1296 on a pillar in Mandapam of the Lakshminarayana Swami Temple.
An important railway junction and an important commercial centre, besides the tourist attractions of the city, Guntur is known for its rice and oil mills, cotton and tobacco curing barns. Endowed with a rich history, Guntur has played a veru important role in shaping the history and destiny of Andhra Pradesh in the past. A centre for Buddhism in the early centuries, it is a place of many events and legends related to the endeavors of a man to reach a supreme spiritual plane. Guntur still enjoys the status of being the cultural and regional reserve of the times and is blessed with an abundance of Nature's blessings in the form of serene hills, lush green valleys, mighty rivers and beautiful beaches. Today, Guntur is world renowned for panoramic locales, delicious pickles and as a confluence of historical, religious and leisure destinations that are of interest to everybody.
Guntur Tourist Attractions
49 km from Guntur, Bhavanarayanaswami temple at Bapatla is dedicated to Lord Bhavanarayanaswami, who came to be known as Bapatla with time. It is the most ancient and famous of all the temples in Guntur district and is of immense historical and architectural importance.
How to Reach