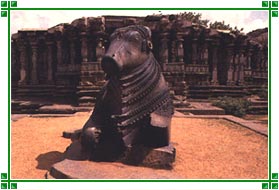 The ancient capital of the Kakatiyas, a 12th century Andhra dynasty, Warangal has beautiful lakes and temples rich in antiques and relics and is teeming with wildlife. The ruins of Warangal's fort display the traces of the outer wall and the four stone gateways ('sanchar') of the inner wall. The 12th century thousand-pillared temple is the most famous of all the attractions of Warangal. Now a commercial and industrial center, Warangal has been identified as Worakalli, the 8th century capital of the Adeva Rajas of Tuluva Andhra or Telengana. Warangal or Varankal is said to be by the name of Orugallu or Omtikonda in the ancient times on account of a hillock situated near the Swayambhu Siva Temple called 'Ekasilanagaram'. The city has found reference in the travel diaries of Marco Polo.
The creative genius of the past in the field of architecture, literature, and engineering can be seen in the ruins here. Located near the Ekashila hill rock, the fort shows the signs of a very deep and high mud wall fortified inside with colossal blocks of stone joined together. Rudramma added the deep and wide moat surrounding the double wall to add to the defense tactics of the fort. The brave queen who ruled for 30 years is a legendary female warrior who is said to have died at the age of 80 while leading her troops into the battlefield. The remnants of the majestic Sahastralinga Temple show four massive torans still standing erect housed in the fort premises. Immaculate delicate black basalt sculptures adorn the doorways, perforated stone lattice screen, vibrant leonine figures and graceful swans look elegant and give an aura of opulence and grandeur.
Warangal Tourist Attractions
Fine example of Kakatiya architecture and sculpture, it was built by Rudra Deva in 1163. The star-shaped temple has three shrines dedicated to Lord Shiva, Vishnu and Surya. It is famous for richly carved pillars, delicate screens, elaborate and detailed sculpture and the black basalt monolith of Nandi along with a lovely polished finish.
How to Reach Warangal