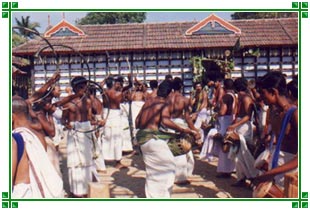 Most of the South Indians with their dark color and heavy lips belong to the Dravidian race or Indo-Aryan stock. They speak languages that are a part of Dravidian linguistic family including Tamil, Telugu, Kannada, Malayalam and Tulu. Konkani spoken mainly in Goa is also used frequently in coastal Karnataka and Kerala. It belongs to the Southern stock of Indo-Aryan languages but is heavily influenced by Kannada and Malayalam. South Indian people generally are very traditional and religious in nature yet have a tolerant view of the other religions and a cosmopolitan outlook. They revere the natural world and believe in lying low where Nature is concerned as manifested in the Shaivite tradition in South India. Unlike other parts of India, the South Indian community is feminist and motherhood has an upper hand.
The distinct and unique beauty of South Indian women is enhanced by the traditional saree worn in a typical style. South Indian men generally wear Lungi (called Mundu in Kerala) as the lower half of the dress. Rice and fish are the staple diet of coastal South Indian meals and coconut is very popular in all its forms from the fresh tender ones to the dried coconut powder used as an important ingredient in many of the South Indian dishes. The agrarian society of South India is dependent on monsoons and the main crops include paddy, sorghum, millet, pulses, cotton, chilli and ragi along with the famous spices such as areca, coffee, pepper, tapioca and cardamom that are cultivated in extensive plantations spread across the Nilgiri Hills and Coorg.
South Indians have very high rate of literacy and education is highly valued in the Deccan part of India. This part is also known for giving birth to India's best-known physicists and mathematicians. However, Kerala has the highest literacy rate in India. Since people are educated here, the population growth rate here has also declined and Information Technology has seen a phenomenal growth here in the past few years. Bangalore, known as the Silicon Valley of India, is India's largest Information Technology hub followed by Hyderabad, the capital of Andhra Pradesh. Bangalore has over 200 software companies including the most famous ones in the world such as Microsoft and IBM.
Shaivite Hinduism is the main spiritual tradition of South and Jain religion has lost its previous hold in this part of the country. Still there are some important pilgrim centers for Jains and Buddhists here including Shravanabelagola in Karnataka as a popular pilgrim center for Jains and Coorg in Karnataka as one of the largest Buddhist monasteries in the country. Malabar coast has a large Muslim community too that lives here since the ancient maritime trade between Kerala and Omanis and other Arabs. Hyderabad in Andhra Pradesh is an historic center of Muslim culture in South India. Jewish can go and visit the oldest Synagogue in Fort Kochi. Christianity was introduced in this part of India since the advent of Portuguese traders though one can still find the remnants of the Nasranis, the earliest Judo-Christian tradition of Syrian Christians and the Knanaya community that still lives in Kerala.