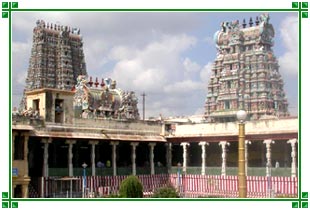 South India or Deccan India consists of a peninsular and triangular region with Arabian Sea to its west, Bay of Bengal to its east and great Indian Ocean to its south. Its varied topography includes the rocky plateau region, the highlands of Western and Eastern Ghats bordering at its coastline, beautiful islands, virgin beaches, delightful plains and rich alluvial soils. Generally speaking, while talking about South India, we discuss the four states of Kerala, Karnataka, Andhra Pradesh and Tamil Nadu, the Union Territory of Pondicherry and the beautiful islands of Andaman & Nicobar and Lakshadweep Islands. The tour of South India offers a glimpse of the rich Indian culture and tradition surviving side by side the modern and scientific developments and researches that keep India at par with rest of the world.
The famous Meenakshi temple, the Rameshwaram Temple and Tirupati Balaji Temple are some its best-known pilgrimage points while Bangalore and Hyderabad are the homes of the IT world's leading giants and are known as 'Silicon Valley of India' and 'second Silicon Valley of India' respectively. Periyar Wildlife Sanctuary of Kerala offers glimpse of wild herds of Indian elephants and tigers in their natural habitats while cruising on 'Kettuvallams', the houseboats of Kerala on its backwaters offers you the opportunity to spot some of the rare bird species. The colorful and unexplored marine and under-water world are an attraction in Lakshadweep islands while it is intriguing to see the tribals of Andamans struggling to survive with their own unique customs and little touch with the outside world. The famous Yoga centers of Pondicherry are much-beloved tourist spots.
South India offers various adventure and aquatic sport facilities and opportunities including parasailing, angling and fishing, trekking, elephant rides, jungle activities, boating, swimming, mountain climbing and a trip to the aromatic plantations of cardamom, tea, coffee and pepper. The annual Tea and Tourism festival of Ooty is a hit among the tea lovers all over the world. Several other tourism and temple festivals attract a number of tourists from all over the world. The verdant green groves, classical Indian dance and theatrical performances, the art of yoga and meditation, the natural treatment centers of Kerala are just a few of the various attractions of this part of India. Come explore South India wit us.