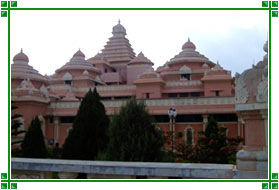 Tirupati is known as the abode of the Hindu god Venkateshwara, Lord of Seven Hills. The Tirumala Hills, where the temple of Tirupati Balaji dedicated to Him is said to be so sacred that till 1870, non-Hindus were not permitted to scale its heights. Developed mainly by the generous contributions made by the kings from great dynasties that offered homage to Lord Sri Venkateswara in the ancient shrine, some of the major contributors here were the 9th century Pallavas of Kancheepuram, 10th century Cholas of Thanjavur, Pandyas of Madurai and rulers of Vijayanagar Empire. However, during the reign of Vijayanagar dynasty, contributions to the temple increased a great deal. The famous ruler Krishnadevaraya installed the statues of himself and his consorts at the portals of the Tirupati temple. Raghoji Bhonsle, the Maratha general, was the first to set up a permanent endowment for the conduct of worship in the temple. His offerings included valuable jewels including a large emerald that is preserved to this day.
Today, Tirumala Tirupati Devasthanam looks after the maintenance of the temple and the well being of the pilgrims. The enormous contributions have been channeled to sponsor religious, charitable, social and educational undertakings along with providing ample conveyance and halting facilities to thousands of pilgrims such as shelters, drinking waters, toilets, canteens and medical facilities. Perhaps this is the only temple, where 'darshans' (seeing the deity) has been categorized into 'Sarvadarshan' (darshan for all which is free of cost), 'Sudarshanam' (paid darshan with a minimal waiting time) and special darshan for the physically disabled and the aged. There are free bus services too between Tirumala and Tirupathi for the pilgrims.
Shopping Attractions:
Vegetarian meals are provided free of cost to devotees to the temple. One can also buy the video and audiocassettes and CDs produced, distributed and marketed by the Tirumala Tirupati Devasthanam of Vedas, Sankirtanas and Pravachanams. Lepakshi Emporium is an ideal place for purchasing handicrafts as souvenirs at moderate prices.
Tirupati Vacations
Tirupati Baliji Temple at Tirumala dedicated to Sri Venkateswara, the Lord of Seven Hills, is famous all over India and the world and is the backbone of the tourism industry here.
How to Reach Tirupati