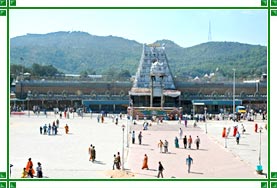 Lord Venkateswara Temple
:
Tirupati Baliji Temple at Tirumala dedicated to Sri Venkateswara, the Lord of Seven Hills, is famous all over India and the world and is the backbone of the tourism industry here.
Padmavati Temple
:
5 km from Tirupati, the large temple dedicated to goddess Padmavati, the consort of Lord Venkateswara at Tiruchanur is also known as Alamelumangapuram'. It is customary to visit the temple after a visit to Tirumala to complete the pilgrimage.
Govindaraja Swami Temple
:
The 12th century Sri Govindarajaswami Temple is one of the most important temples at Tirupati and was consecrated by Saint Ramanujacharya.
Kodandaramaswami Temple
:
The presiding deities of this 10th century Chola temple are Sita, Rama and Lakshmana while the temple of Anjaneyaswami, opposite it, is a sub-shrine of this temple.
Sri Kapileswaraswami Temple
:
3 km from Tirupati, the only temple dedicated to Lord Shiva in Tirupati is situated at the foot of the Tirumala Hills. It also has a sacred waterfall called Kapila Teertham or Alwar Teertham is also situated nearby.
Sri Kalyana Venkateswaraswami Temple
:
12 km from Tirupati, one can find Sri Kalyana Venkateswaraswami temple at Srinivasa Mangapuram is said to be the site where Lord Venkateswara stayed here after his marriage with Sri Padmavati Devi for some time.