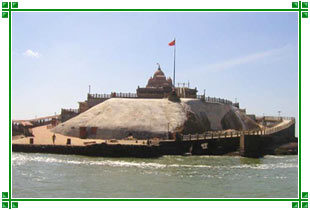 South India has important shrines of all the major faiths of India including Hinduism, Islam, Christianity and even Jainism. However, it is the Sri Venkateshwara Temple at Tirupati, the richest temple in the world over, which is best known of all and is one of the most prominent pilgrimage attractions of Andhra Pradesh. The other attractions of Andhra Pradesh include Ahobilam, the pilgrimage centre for Vaishnav Hindus, Amaravati with Lord Amareswara Temple and the world-famous Buddhist sculptures, rare Lord Surya Temple at Arasavalli and Bhadrachalam said to be the abode of Lord Rama for sometime on the shores of River Godavari, which is considered to be one of the greatest holy shrines of South India. There is 11th century Lord Narsimha Temple at Simhachalam, Srisailam enshrining one of the twelve Jyotirlingas in India and Puttaparthi, the world-famous abode of Sri Satya Sai Baba.
Sravanbelagola in Karnataka is internationally renowned for the massive Gomateshwar monolith and is one of the most sacred Jain pilgrimage centers. Sringeri and Dharmasthala is sacred to Hindus while Inam Dattatreya is sacred to both Hindus as well as Muslims. Karkala, Moodbidri, Venoor, Humcha and Narasimharajapura of Karnataka have numerous Jain shrines and monuments. Mosques and churches of Sirsi, Veerashaiva Matha, one of the five great Panchacharya Mathas, Harihareshwar Temple at Harihar and the famous Lord Krishna temple at Udupi are yet other temples in Karnataka that are a must-see. Kerala has popular pilgrimage centers of Attukal Bhagavathy temple at Mudippura in Thiruvananthapuram known as the Sabarimala of women, Chettikulangara temple at Kayamkulam, Guruvayoor in Trichur district and Mannarasala temple at Harippad dedicated to God of Serpents.
The first mosque in India is situated at Methala in Kodungalloor, Kerala while Kondotti is the most sacred place for Muslims in Kerala. St. Sebastian Church, Manjinikkara church and the first European church in India are notable pilgrim places for Christians in Kerala. Tamil Nadu has shrines dedicated to all Shaiva, Vaishnava and Shakti cults of Hinduism and range from rock temples with huge Gopurams to the cave temples, shore temples and open-air bas-reliefs to the Dravidian style temples. The most famous of them are Srirangam, the abode of Lord Ranganatha near Trichy, the temple at Chidambaram dedicated to Lord Nataraja, Dargah of Meeran Sahib Abdul Qadir Shahul Hamid Badshah at Nagore, Brihadeeswara Temple and the pilgrim centres of Nanguneri, Palani, Tiruttani and Velangani.