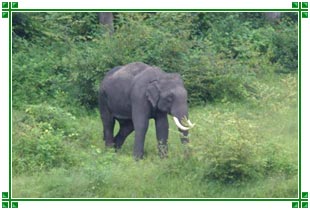 Deccan India has diverse physiography with a long coastline bordered by Arabian Sea, Bay of Bengal and Indian Ocean, dense forests and vast expanses of grasslands, a number of rivers, lagoons and harbors, lowlands, midlands and highlands of Western and the Eastern Ghats, shimmering lakes, delta regions and tropical climate with most colorful range of birds and animals. The large forest tracts south of the Vindhyachal ranges and South Karnataka house some of the most notable wildlife sanctuaries and national parks of Karnataka including B.R. Hills Wildlife Sanctuary with Gaurs and Chitals as its main attractions and Bhadra Wildlife Sanctuary with Great Indian Gaurs and Barking Deers as its chief highlights.
The largest wildlife sanctuary in Kerala is the Dandeli Kali Wildlife Sanctuary known for its crocodiles. Angling and fishing can be enjoyed Bheemeshwari wildlife sanctuary featuring Masheer fish. Nagarahole and Bandipur National Park are also noteworthy. There are 12 Wildlife sanctuaries and two National Parks in Kerala. The most famous wildlife sanctuary here is the Periyar Wildlife Sanctuary and the Tiger Reserve featuring Indian Elephants. However, some of the other wildlife and bird sanctuaries here are Peppara Wildlife sanctuary, Shenduruni Wildlife sanctuary, Neyyar Wildlife sanctuary, Muthanga Wildlife sanctuary, Idduki Wildlife sanctuary, Kadalundi Bird Sanctuary, Chinnar Wildlife sanctuary, Parambikulam Wildlife sanctuary, Kumarakom Bird Sanctuary, Aralam Wildlife Sanctuary, Thattekad Bird Sanctuary, Silent Valley National Park and Eravikulam National Park.
Some of these wildlife sanctuaries are homes to the rare and endangered species of flora and fauna. There are 5 National Parks and 17 Wildlife Sanctuaries in Tamil Nadu. The varied and popular wildlife sanctuaries here are Anamalai Wildlife Sanctuary, Mundanthurai Tiger Sanctuary, Kalakadu Wildlife Sanctuary, Calimere Wildlife Sanctuary, Mudumalai Wildlife Sanctuary and National Park, Kunthakulam Bird Sanctuary, Viralimalai Sanctuary and Vedanthangal Bird Sanctuary. The most famous national parks here are the Gulf of Mannar Marine National Park and Guindy National Park while the Anna Zoological Park, the Snake Park and the Crocodile Bank of Chennai are some of the most famous spots to see the range of fauna species.